This article has been created to show how to setup the Product Integration that Kornit X has built to connect to the Import Only Salesforce integration.
Setup



To setup the Salesforce (Import Only) integration, please head to your category and within and within the advanced settings cog wheel head to "Integrations" and click to enable the "Salesforce (Import Only)" option. This has been shown below.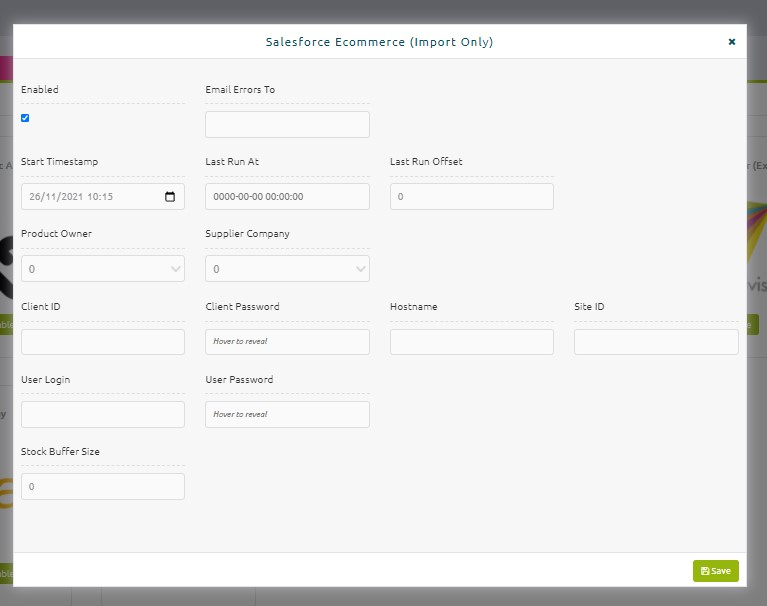 To be able to access this integration you must have your "Client ID", "Client Password", Hostname", "Site ID", "User Login" and "User Password" which will be provided by Salesforce when connecting with them,
Workflow



With the Salesforce (Import Only) integration you can set an email to send errors to, a start timestamp, a last run at time, last run offset, product owner ID (Using a product owner search field) Supplier Company ID (Using a product fulfiller search box) and finally a stock buffer size value to enter a numerical value.

Updated Salesforce Product Integration Features

At KornitX we have continued to develop updates for variants and this is due to the fact we pride ourselves on constant evolution and the release of new features and enhancements every week. We have detailed each new variant enhancement below. If you are interested in knowing what features arrive, they will be continually updated within the "Core Platform Feature Updates" Article -
CLICK HERE

This will continue to be updated below whenever a new enhancement is rolled out to improve variants, a time stamp will be labelled with each feature
Support For Pushing Multiple Images

This was added on 12-01-2022

The Salesforce integration has been updaed to ensure that for products with multiple images set in the Platform, this integration will pass these images back allowing users to set as many images as they want and the connection to Salesfor will carry these images across. There is no additional settings to set her, the images will pull through as long as they are set in Platform.