What Is The Purpose Of Product Categories?
Product Categories are an essential element for managing products, every single product within the platform is going to be found within a category. We at KornitX have allowed for our customers to use categories by managing and updating their own products.
Where Can I Access Product Categories?
Any user with access to the platform can access categories. To do so, simply head to the "Settings" cog wheel in the top left section of the system. You can then see the "Categories" option which is shown in the below screenshot.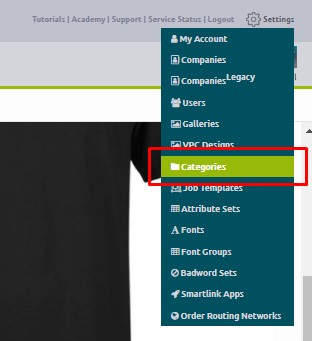 How Do I Set Up A Product Category?



When you first access "Categories" you will be greeted with the list view containing a view to all of your existing categories.
From this list view you can identify the following, which is highlighted in the screenshot.
The 5-6 digit numerical reference code for the category ID




The name of the category




The ability to enter advanced detail



Identify the path of the category


To be able to make a category, you must enable the "Tree View" which will allow you to head to the category location where you can expand the categories and with a left click you can create a new subcategory or edit the name. This has been shown in the below image.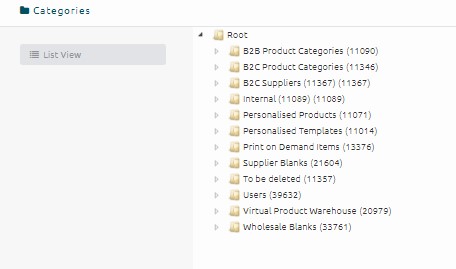 What Can I Amend On Product Categories?
Within any category you can amend the name, set an image, localisation, enable one of our product integrations or delete a category which are detailed further below.

How Do I Set Images On My Categories?

To set a thumbnail against your category you will be greeted with an "Upload File" option. You will need to set images saved within the PNG format and should be square in shape. Ideally the best type of images need to be small. This is an optional element of your categories and is mainly found within sales feeds. We have sown the screenshot of this below.
How Do I Set Localization Against My Categories?

You can add localization against your product categories, this has been added to ensure for anyone around the world can set a unique category name based on the region they are located in. Please note this is only optional and not a requirement of all categories but we want to ensure if anyone wants locale set can do so with ease.

How Do I Set Integrations Against My Categories?

Yes, We have the ability to set "Product Integrations" and this is done by setting a integration against your category, this is our most recent type of integration and plans to expand this are to happen. This has been shown below.



We have product integrations for Salesforce, Channel Advisor, Ebay and Walmart to name a few. We have articles for these integrations as found here - CLICK HERE
How Do I Delete A Category?

The trash can option can be found against every category you can see within the list view. You simply press the delete button a delete your category


Please note, to delete a category the category in question must be clear of all products and any sub categories should be cleared and deleted first

Only delete categories if you absolutely have to get them removed.