The Etsy integration utilises the Etsy API in order to pull orders from Etsy into the OMS. It will also automatically update the order once it is shipped in OMS and ship it in Etsy.

Setup and Authentication

Firstly go to the companies section and to the Retailer Company you want to pull your etsy order into, Then go to the Retail Integrations tab, scroll to Etsy and click Enable

That will popup the below form. To add the required authentication you simply click Get Access Tokens; this will open up a login page for you to login to your Etsy seller account and allow us to access your sales data in order to create orders within OMS. Once this is done the Oauth Token and Secret will be manually filled in so please don't edit these fields unless you have been told to do so by a Custom Gateway Engineer or Onboarder.

The `Shop name` field is required and this is simply the name of your shop on Etsy.

The `Use Due Date from Etsy` checkbox will, when enabled, make the integration set the required dispatch date to the due date we receive from Etsy.

The `Add your BCC on to Shipping Email` Will make Etsy bcc you onto the shipping confirmation emails it sends out once an order is confirmed as shipped, It will use the email from your Etsy account for this BCC

Please refer to the following Supplier Map help article for information on the use of a supplier map: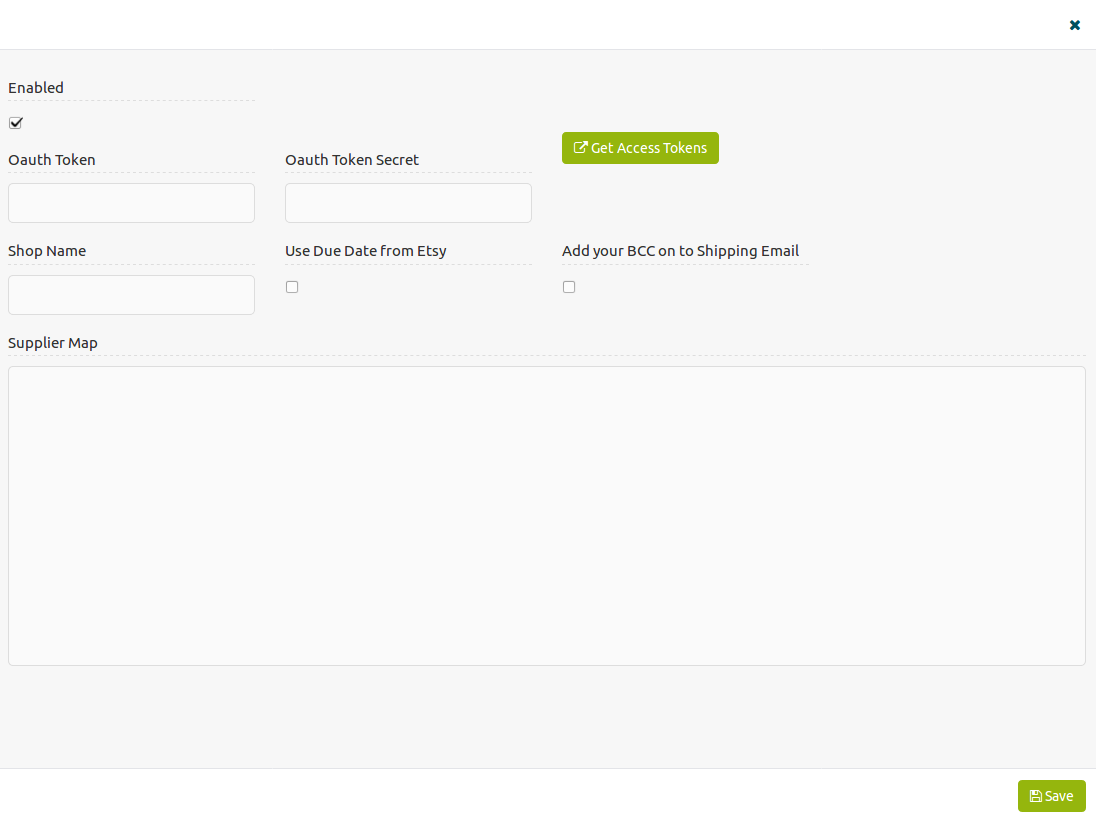 Integration Work flow

Once you enable the integration we will start pulling orders from your Etsy account.

Since Etsy doesn't allow us to pull by status we instead get fetch all of the orders and everytime we pull we update a internal field that stores the date we last pulled orders so that we are able to only get orders that are created after the last time we pulled orders so that we don't fetch duplicate orders.

The orders are pulled in as Textual orders and they will add any Variations as attributes to the order item.

One an order is dispatched or set to Shipper Recieved then we will push a dispatch notification to Etsy including the tracking code and carrier name from the order if present.

Updated Etsy API Integration Features

At KornitX we have continued to develop updates for variants and this is due to the fact we pride ourselves on constant evolution and the release of new features and enhancements every week. We have detailed each new variant enhancement below. If you are interested in knowing what features arrive, they will be continually updated within the "Core Platform Feature Updates" Article - CLICK HERE

This will continue to be updated below whenever a new enhancement is rolled out to improve variants, a time stamp will be labelled with each feature
New Version Of The Etsy Retailer


This was added on 02-03-2020

The Etsy Retailer Integration was updated to include features such as "Use due date from Etsy" and "Add your BBC on to your shipping email" which can be enabled and disabled wth ease via the Etsy integration. This has been detailed in the below screenshot and would be accessible by anyone who wants to integrate with Etsy.