What Is eCommerce Data?



Within CPP, your products can be set up with eCommerce data which can be downloaded within an export, updated with our import and generated in a feed to get products added to retailer sites and for many of our other integrations. eCommerce data is important as it allows for CPP products to have descriptions, lead times, weights, notes, shipping carriers etc.


eCommerce imports must be imported as a CSV document.
Including this data on your products makes them look more professional and ensures an increase in product engagement. This data can be a massive benefit for suppliers and retailers. This following document details the definition and use of every column header, as well as some example and whether they are required for Feeds.
LINK

This data is essential if you are hoping to add your products to Feeds, where other retailers can list your products.

What Fields Can You Update With The eCommerce Import
Here is a list of the following fields you can update within the eCommerce Import and Export, these are broke down below.

Basic Details - Name, Fulfiller SKUs, Retail SKUs, Product Type, Product Classification, Product Categories, Product Images

Default Fulfiller - Fulfiller Company, Owner Company, Stock Base Product ID, Wholesale Blank Product ID, Output Type, Machine Type
App Defaults - Default App, App Config, App Locale

Sales Data - Sales Description, Long Sales Description, Notes, Meta Data, Lead Time, Manufactorers Code, Weight, Tax Code, Tax Rate, Barcode, HS Code, Nominal Code, Default Shipping Carrier, Number Of Parcels, Production Instructions

Licence Information - Licence, Licence Company, Licence percentage, Brand Code, Brand Name, Branding Attribute Set, Design Name, Design Code
There are many more fields available, but the above is the most commonly used data fields.
Can I Set eCommerce Data Manually?

Yes, eCommerce data can be set manually by going into editing any product. You will find "eCommerce & Data" as one of the 6 main menus of any product. Within the info tab you will find all of the sections which you can add you information to.

This is a perfectly viable option if you need to make small changes but we recommend that you use the export/import as this is a quicker process and allows for multiple products to be updated at once.

Within Feeds this allows for retailers to access the products and view descriptions, in theory the more detailed the eCommerce data the more likely retailers will want to start establish a drop-ship integration relationship
How Do I Set Up eCommerce Data With The Import?
Like mentioned, eCommerce data can be added to CPP via our CSV import option, this is the most used and best option for mass updating a variety of products with valid eCommerce data. To arrange this data you are best to run our "eCommerce Data" export from within a products category and open the file. Once you have this file you can add your information to the correct tabs. For example, you would add you sales description to the "
ecommerce.sales_description", Lead times to "ecommerce.lead_time", Weights to "ecommerce.weight" and so on.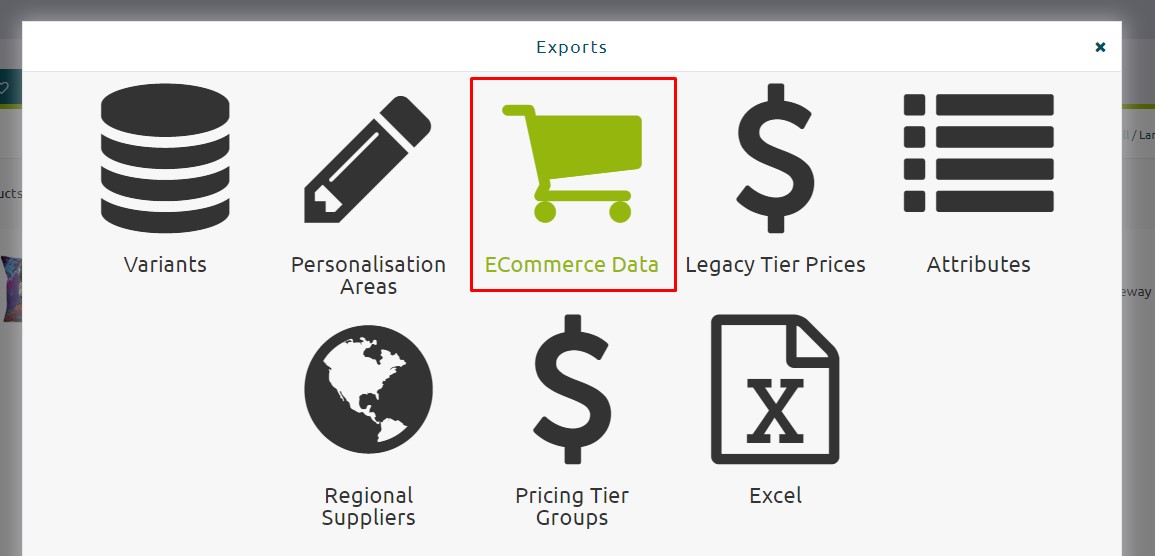 Once your file has been filled in completely with the relevant data you wish to add, you just need to access "eCommerce Data" from within the Imports section of CPP. Running this import will then automatically add this data to your products. To check this has worked completely we recommend wither downloading the export and ensuring the data is there or manually checking from within a products "eCommerce & Data" section.

If you want to get added to the Feeds we recommend contacting us, and using our data audit tool to ensure you have valid data ready for other retailers, this is shown in our screen shot below.

Can You Show Me This Import?

The following video runs through the process: from setting up our import, to importing and to finally seeing the eCommerce data from manually checking a product to running the export.

Updated E-Commerce Import & Export Features

At KornitX we have continued to develop updates for variants and this is due to the fact we pride ourselves on constant evolution and the release of new features and enhancements every week. We have detailed each new variant enhancement below. If you are interested in knowing what features arrive, they will be continually updated within the "Core Platform Feature Updates" Article -
CLICK HERE

This will continue to be updated below whenever a new enhancement is rolled out to improve variants, a time stamp will be labelled with each feature

New options added to Machine Type


This was added on 24-01-2022
Kornit X has added even more Machine Types to product which can be updated within the eCommerce import via the "product.machine_type" field/ The below lists the types that can now be set.


Name format for new machine types

emb/dtg-mixed, epson-3dsublimat, hotronix-transfe, mhm-screenprint, ricoh-digital, ricoh-latexprint, ricoh-uvprint, roq-dtg and trotec-galvanicl.

Machine Type added to the ecommerce data export