Variants - How To Create Them In Platform

What Are Variant SKUs?



When you have a single product within platform that has variable options (such as Size and Colour for garment items) you will most likely want to receive a unique SKU to help determine which options have been added to the cart. i.e a shirt with 3 sizes & 4 colours will have 12 variants.
With Kornit X we have two options for adding variants. You can either make these manually one by one via the product ID or import the variants via the variant import. With Platform you can easily manage the variants by editing and deleting them if required.

The Import has been documented within the following Variant Import & Export Article -
CLICK HERE
What Can A Variant Be Set Against?



Variants can be set against many existing elements of product setup within platform, these have been outlined below.

Pre-set Stock Product IDs


Pre-set Production Attributes


Aspect Options


Attribute Options


Product Print Sizes

The above options have been shown in the below screenshot which is accessible to anyone setting up product variants.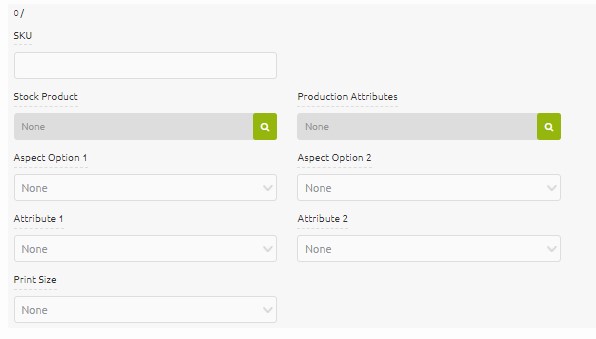 Important to note all of the above features can be set via our variants import
How Do I Set Variants Manually In Platform?

You can set up variants via platform where you can manually go into each item with valid attributes/aspects/print sizes and go into the variants tab under "product details" shown in the screenshot below.

Variants can ONLY be added to products with either valid aspect options, attributes or print sizes.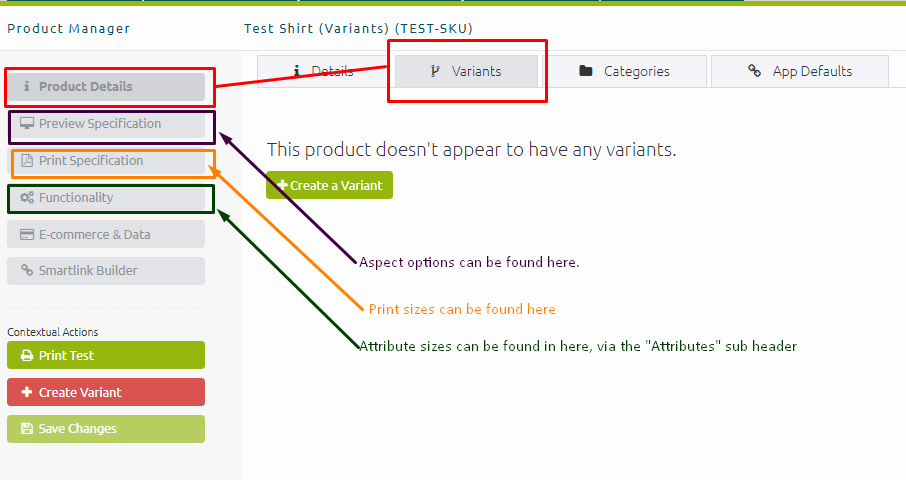 Now within the variants section, before you set these up you are met with the green "Create A Variant" button. Upon pressing this a variant will be created given you the following options which are specified below. Please open this image in a new tab to be able to read this easier.

Here is a video walkthrough showing best how to set up variants using V2.

How Can I Set Variants Via An Import?



Anyone with a built product include either attributes or aspects can import variants within platform. The variants need to be made by customers as what variants they receive must be specified. For example, you could want the SKU to be "Main Supplier SKU-Aspect SKU-Attribute SKU" and this is what you will receive in Order Manager.

This example attached has taken into account the main product SKU, the colour SKU and finally the size SKU which have formed a Variant SKU example variant SKU. We have added the correct headers to this as specified in the comments -
Click Here

Critical: Download this sheet to create your variants as this link is read-only
We have an article that discusses the import and export in more detail which is linked here -
Click Here
How Can I Ensure My GUID Will Show Variants In OMS?



To access the variants in Order Manager you will need to sign into Platform and head into the companies in the top right corner, search your company and click edit. You will then need to go to the "API & Incoming" sub-header within the company. Here you will need to press on "SKUs Alpha" and you will find the variant SKUs and References which allow for the orders to be. This has been shown in the video below.
How Can I View Variants In My Orders




Within the advanced setting of a company you must have "Use Aspect Option" enabled to work correctly.
Once this setting has been selected you can see your mapped SKU against the order reference in OMS. This short video shows you how best to see this.
Updated Variant Features

At KornitX we have continued to develop updates for variants and this is due to the fact we pride ourselves on constant evolution and the release of new features and enhancements every week. We have detailed each new variant enhancement below. If you are interested in knowing what features arrive, they will be continually updated within the "Core Platform Feature Updates" Article -
CLICK HERE

This will continue to be updated below whenever a new enhancement is rolled out to improve variants, a time stamp will be labelled with each feature
Seller Portal now supports the displaying of variant trade pricing

This was added on 22-09-2021
Variant Pricing can now be set within pricing that can than be used to display within the seller portal, this has been shown below as an "Element" type that can be set against any one of the price types

By setting this, the pricing within the "Seller Portal" will take into account the additional variant price and add this to the overall price of the product.
Weights can now be calculated at a variant level by connected stock items

This was added on 03-09-2021
Weights can now be included within the variants, via a connection to a stock product,
The way this works is a customer would need to create a Stock Product for each variant that they want to apply a weight to and associate each Stock Product with the respective variant, as per the screenshot below. You then need to set the Weight (g) field on the Stock Product (within the E-commerce & Data section). The Shipping integration should then apply the weight from the Stock Product at the variant level. The weight can be set with the eCommerce import by using the headers "product.id" and "product.weight".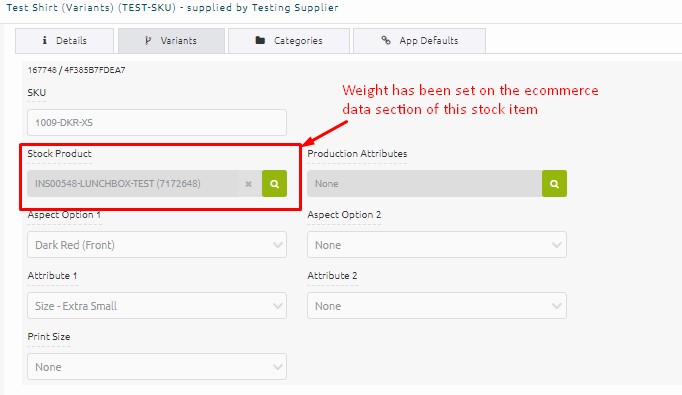 The Simple Stock Import can be used to generate multiple Stock Products if required. See the Simple Stock Import Knowledge Article for more information -
CLICK HERE
Job Templates support Inclusion Of The Variant ID

This was added on 05-07-2021

Job templates now support an inclusion of the variant ID which is unique to every single variant within the system. This was added so our customers could set job templates specifically to reference different variants which may be associated to alternative print sizes as an example.

For more information on job templates, please refer to the following article -
CLICK HERE
Global Fulfilment Networks : Update allowing variants to be specifically routed and SKU mapped

This was added on 05-07-2021
Retailer Feed with variants supports additional aspect images were populated


This was added on 25-05-2021
The retailer feed generating variants was amended again to include support for any additional aspect images, this means the feed will populate with a URL to link to every single aspect option linked to the variants. This allows customers using the retailer feed to be able to mass generate all images associated to variants.
Retailer Feed update with an option to include variant data

This was added on 12-04-2021

The retailer feed can now include variants, in order to do so you just have to tick "Include Variants" when running the retailer feed. This will not work if you generate the retailer feed, it is recommended you only run this if the products include variants.


Related Articles

KornitX Platform Imports & Exports - Variants

How Can I Set Variants Via An Import? Anyone with a built product include either attributes or aspects can import varaints within platform. It is possible for the support team at Kornit X to run the imports but customers will need to supply us with ...

Catalog | New Pricing EPA

What Is The EPA? Our Personalisation apps provide the ability to show pricing as well as allowing the user to input a purchase quantity. This information is than pulled from an external URL and is then know as the External Pricing API (Or EPA for ...

Platform Glossary of Terms

This article contains a glossary of terminology we use to try and help explain what each one means. TERMINOLOGY DESCRIPTION Accounting Integration We use these to pass information from the platform to accounting software API Application Programming ...

Magento 2 plugin Textual Order support

With the Magento 2 plugin, we natively support transmitting textual orders. This is ideal for selling print on demand products on your M2 site, or for when you don't want iframes on your website. To set this up in Magento, you will need to create a ...

Create Your First | Personalised Product

What is a Personalised Product? A Personalised Product (aka Predesigned Product) is a Product that features a fixed design element / piece of artwork that has text personalisation and/or image upload functionality. The end user (customer) uses ...