Here at Kornit X we have always aimed to improve the system generated images, this article has been created to highlight the latest updates to improve this, we will list the updates in order of creation below.

Thumbnail Generation Variant Image Improvements


This was added on 29-03-2022

The thumbnail generation of products has been vastly improved so that for products using multiple variant options can generate imagery faster for variants. The system requires users to go to the "Assets" within the first "General" menu of a products set up. The system will give users an option to add images using the eyedrop button as shown below.

Once selected this will allow users to create images for the different variants on the product, menaing multiple images can be made for products with different variants.
Retailer Feed Now Generates Super Large Versions Of Product Images

This was added on 22-09-2021

This support was added to ensure when using the "Retailer Feed". the system will include the Super Large image which will be found in the super large image column of your feed.

Super Large Thumbnails (2000 By 200 Pixels) Now Generated For Products

This was added on 16-08-2021

This support was added to ensure we could generate super large thumbnails instead of the standard large version of the image. This can be generated for everything single product found within catalog and means when listing on market places you can use the super large images instead which offer a better quality and ensures all images are 2000 by 2000 pixels.

Added Support For Auto Generated Thumbnails When Using Our Amazon Feed


This was added on 05-07-2021

This support was added to enhance our Amazon feed by ensuring if a thumbnail has not been generated the system will generate them for you when you have a set of products you want to sell on Amazon. This improvement means there is no need to manually add images for your Amazon listings, you simply run the feed and the system will do this for you.

To access the Amazon feed, simply select your products or category that you wish you list and select the "Feeds" option and press either the "Amazon Marketplace" or "Amazon Custom" Options as shown below.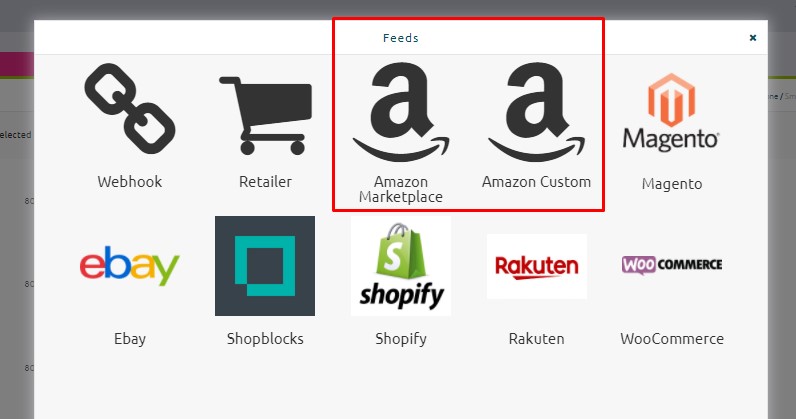 Image Processing Enhancements For High Order Volume Management


This was added on 22-02-2021
For users with high order volumes the system was updated to ensure that images for orders will send out improved images of the orders.



Automatic 3D Thumbnail Creation


This was added on 21-12-2020

For customers who have 3D products created for them, the system has been updated to automatically generate a thumbnail for you, this will take a snapshot of your product and set an image. These images can be overwritten with the eye tool for product images but this is not required as we will make an image for you.



Smartlink Onedrive Image Source


This was added on 22-09-2021

The Onedrive Image source has been updated to use the latest SDK.