Our Platform integrates seamlessly with your Spring account to allow the booking in of shipments, the printing of labels and the passing of tracking references.

If you have a Spring account all you need to do is add your Spring API key into the shipping integration on your dropship company and ensure the "Is Enabled" tickbox is checked.

This will then process any order recieved with the Carrier as "SpringXbs" and the Method as one the below accepted values (correct at the time of writing, Spring API documentation can be viewed for an up to date list which will be under "Services"

In the below list the section before the hyphen is the "Method" and the text after is a method description, so in the platform your "Method" would be "ccTRCK", "PPLT" for example
TRCK –TRACKED

SIGN –SIGNATURED

UNTR –UNTRACKED

CLLCT–SPRING COLLECT SERVICE

PPLEU –PostNL Parcel EU

PPND –PostNL Parcel Benelux -No sign

PPNDS –PostNL Parcel Benelux -Sign

PPHD –PostNL Parcel Benelux -No sign, no neighbor

PPHDS –PostNL Parcel Benelux -Sign, no neighbor

PPLGE –PostNL Parcel GlobalPack EMS

PPLGU –PostNL Parcel GlobalPack UPU

PPTT –PostNL Packet Tracked

PPBTT-PostNL Packet Boxable Tracked

PPTR –PostNL Packet Registered

PPNT –PostNL Packet Non Tracked

PPBNT-PostNL Packet Boxable Non Tracked

PPBT –PostNL Packet Bag & Trace

RM24 –Royal Mail Tracked 24 -No sign

RM24S –Royal Mail Tracked 24 -Sign

RM48 –Royal Mail Tracked 48 -No sign

RM48S –Royal Mail Tracked 48 -Sign

SEND –Sending Mainland

SEND2 –Sending Islands

ITCR –Italian Post Crono

DPDDE –DPD DE

HEHDS –Hermes -Sign

CPHD –Colis Prive -No sign

CPHDS –Colis Prive -Sign

SCST –Spring Com Standard -No sign

SCSTS –Spring Com Standard -Sign

SCEX –Spring Com Express -No sign

SCEXS –Spring Com Express –Sign

IMPRT –Routed service defaulting to service NOLABEL. Do not use NOLABEL directly.

NOLABEL –Does not generate a label. Will only import data.

NOTE - the Sprint integration requires items on the order in the platform to have a retail price on them and the products in CATALOG must have a weight set.
Below is an image of an example redacted label which is also attached in PDF format for sizing.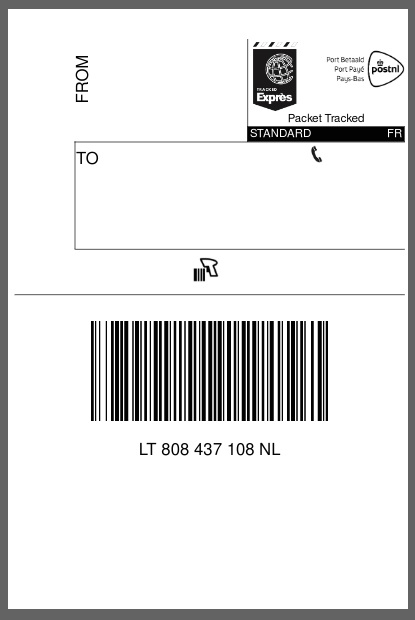 Updated Spring XBS Shipping Integration Features

At KornitX we have continued to develop updates for variants and this is due to the fact we pride ourselves on constant evolution and the release of new features and enhancements every week. We have detailed each new variant enhancement below. If you are interested in knowing what features arrive, they will be continually updated within the "Core Platform Feature Updates" Article -
CLICK HERE

This will continue to be updated below whenever a new enhancement is rolled out to improve variants, a time stamp will be labelled with each feature
Spring XBS now supports shipping strategies

This was added on 31-12-2021
The Spring XBS shipping integration has been updated to include the options to set a Shipping Strategy. To set this simply select the Shipment Strategy drodown and pick from either of the options - Standard or IDT.