What Are The Product Type Options?

There are multiple product types that your products can be set as, the below table lists the options, the explanation for each type and the numerical value which can be used to update product types has been listed below.
| | | |
| --- | --- | --- |
| | | |
| | | This is a product that has no graphical preview assets and can be used in a "No Preview" Context |
| | | This is used when a product type is made up of different parts. |
| | | The products artwork is generated ahead of time and can be ordered without personalisation and without the need to create a print job. |
| | | Dynamic Design products are templates that get applied over the to of standard products. |
| | | The product can be customised, meaning a user can add their own text and images. |
| | | The product has a pre-set design that a user can only make minor amendments to. |
| | | This product type needs to be set if the fulfiller is going to self fulfil the products. |
| | | This product is a virtual so this type ONLY appears when a blank product has been used to create the virtual. |
| | | The product represents a base stock unit, stock products have a key role in the stock inventory system. |
| | | This acts as a parent to a selection of stock lines, essentially |
| | | This product is a wholesale blank which can be used by any wholeseller to have their own blanks |
| | | The product is a blank customisable product that can be used to make virtuals from. |

Products can be set with multiple product types, in this case the number on the export would be a combination of numbers. For example with a stock and customisable typing you would have the number 128 (Customisable) and 512 (Stock) which combined is 640, which is "Customisable" and "Stock".

There are certain types you cannot set, for example you cannot turn a "Customisable" line into a "Virtual" anno d this is due to the relationship between the "Blank" item which CANNOT be separated.

How Can I Update Product Types Manually?

You can easily change a product type manually by editing your item and heading to the main "Product Details" menu and under the "Details" menu you can select the product type from the "Basic" option. Here you can toggle and un-toggle any of the types you need to either enable or disable. This can be shown below.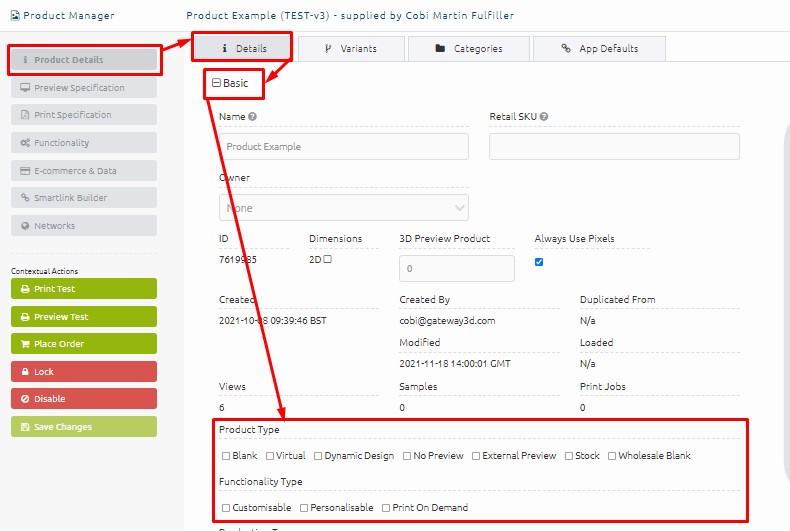 Some saved types will error just as changing a product into a vrtual, an example of this can type of error message can be shown below.



You can also set External Surfaces products within platform by selecting the option "External Preview"
How Can I Update Product Types With An Import?
You can update your product types using the Ecommerce Data import which is a lot faster if ever the need arises to update hundreds of products at once. This can be done from the "product.type" header, where you can set the numerical code ID agasint the product. For combined types you just need to combine the codes together in order to get your correct typing. This import can then be imported back into the system and the product types will be amended.