Print Areas | Masking > Print Masks
Print masks need to match the Print dimensions which are set on the Print area to output correctly
This information can be found on the Print area list view:

Print Area list view showing the Print dimensions and DPI of the created Print Area.
It can also be found if editing the Print area itself: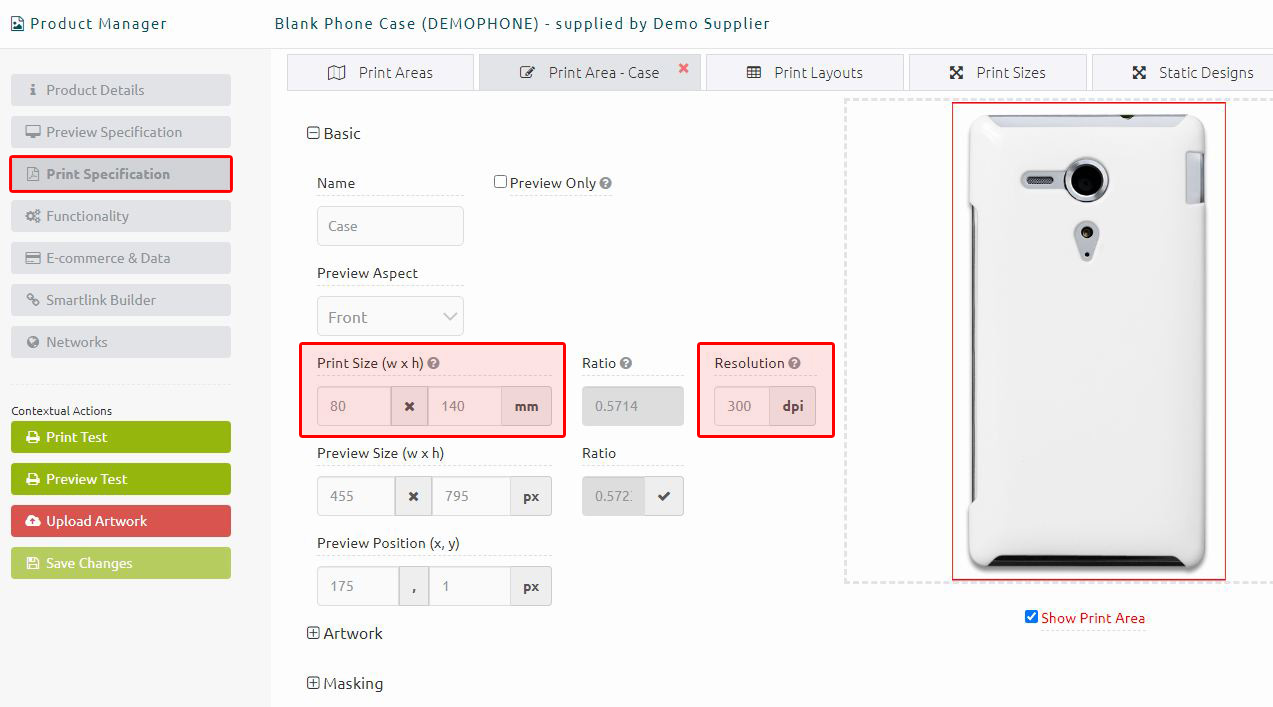 The Print Area edit page showing the Print Dimensions and DPI

Note that Print Masks only affect the production of the generated Print Output file(s), they have no impact on the Product preview.

Related Articles

Print Areas | Print Area Regions

Introduction Regions allow a specified portion of a print area to be cloned and re-applied elsewhere on the print area. They are often utilised to create mirroring or stretching effects. Important note: Regions are currently only supported in the ...

Masks | Understanding the Different Types of Masks for a 2D Product

There are several types of masks that can be applied to a 2D Product within the CPP. Masks serve to either: control the product personalisation visually, affect the output that the system generates, or BOTH. All masks should be PNG format, with solid ...

Colour Areas | Sync From

Colour Syncing Using the Sync From feature, it is possible to automatically apply any selected colour to several specified Colour Areas across the same or different 2D Views. On multi-viewed products this is essential to maintain selected input ...

Image Areas | Strategies for dealing with angled image areas

Overview The purpose of this article is to recommend some approaches that can be used when a rotated or angled image area is required as part of a design on a product. But wait, isn't there already an article on this??? ...

Print Areas | Options (Advanced) > Adding Print Effects

Overview The general purpose of Print effects is for incidences when the print output needs to be visually different to the app preview. So for instance, let's say the personalised product you are creating is a tumbler or wine glass that you can add ...