Platform | Product Manager App Defaults


What Is App Defaults?

"App Defaults" is an option found within Catalog > Product Manager and is accessible when setting up or modifying a product. The main menu is found within "Product Details" and the tab "App Defaults" which is shown below.



Essentially, app defaults acts as a testing version of "Smartlink Builder", for users to test how a product reacts in different app environments


App Defaults should ONLY be used to test your products within our apps, it must not be used to create URLs for your website as these are "Legacy" links meaning these are not fully functional like apps generated in "Smartlink Builder".
How Can I View My Products In My Selected App?

This section is available as an option to load your products in our pre-existing apps, configs and locales. To be able to check out your products within your apps you can run either a "Preview Test" or select the "Open App" option as shown here.
You can see in the below image I am using the "Stepped3" app with my own config and locale. I can preview this either by opening the app or pressing the "Preview Test" option as shown below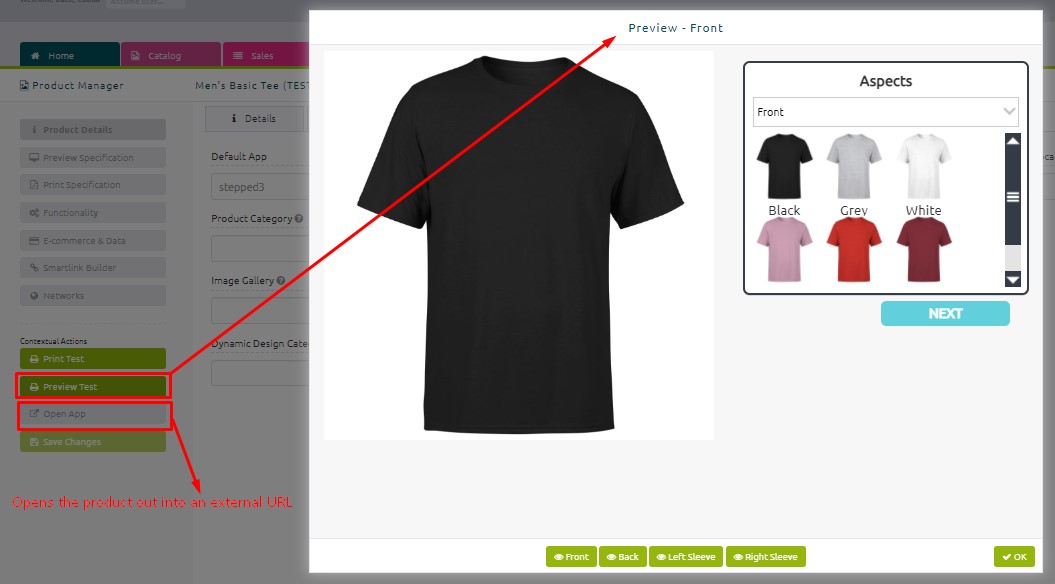 What Else Can I Set In App Defaults?
As well as setting the app, config and locale which is the most common use case. App defaults can also be used to set up a link to a "Product Category". It can also be used to set your app against an "Image Gallery". We have shown an image of the main App Defaults menu you will be greeted with when using this feature.
You can also use app defaults to test any dynamic design products by setting the "Dynamic Design Category" and "Dynamic Design Product" fields

For more information on Dynamic Designs, please review this article - CLICK HERE


Can I Update App Defaults On Mass?

The "App Defaults" menus can be loaded against products on mass by using our "eCommerce Data" import and export. The column fields to use are listed in bullet points below.

"product.default_app" - the name of the app so "stepped3" for example.

"product.default_app_config" - the config reference ID given when creating a config.

"product.defualt_app_locale" - the locale reference needed for the app.

"product.default_app_pc" - the product category to link to, this is only needed if linking to a product category.

"product.default_app_dd" - the dynamic design category to link to.

"product.default_app_ddp" - the dynamic design product to link to.

"product.default_app_g" - the image gallery reference if linking to a gallery.


For more information on the eCommerce Data import, this article linked here has been written to help -
CLICK HERE
App Defaults Within Feeds

An important point to make, when using feeds within the platform all products must have a default app set, this is to ensure when running the data audit when testing the products they will appear in your selected app.
Related Articles

Smartlink Apps | Smartlink Builder Overview

Overview Smartlinks can be configured to suit different use cases and offer control over the end user journey. The available apps that the user can choose from will be detailed within this article. This article will offer information on the core ...

Catalog | New Pricing EPA

What Is The EPA? Our Personalisation apps provide the ability to show pricing as well as allowing the user to input a purchase quantity. This information is than pulled from an external URL and is then know as the External Pricing API (Or EPA for ...

Smartlink Apps | DTF

Introduction The DTF Smartlink App is a front-end customiser that has been specifically developed to provide an effective solution for selling roll printed fabric on demand. Therefore, it is only suitable for use with fabric based Blank products that ...

Smartlink Apps | Creating a Product Selector

Introduction Several of the standard Kornit X apps support the product selector tab which give the end-user the ability to select from a range of products. Using this method you can arrange your products into specific categories within Product ...

Catalog | Product Manager - Product Classification

What Is The Product Classification? Within platform you now have the ability to set a product classification against your items, this is found within the eCommerce export and can be used as a search term within "Product Manager" and "Feeds". Where ...