4) Special Characters, Apostrophes and Punctuation

This is really a continuation of Point 3 but is worth highlighting on its own. When creating products and assigning fonts to text areas be aware that modern Virtual device keyboards often include a larger array of characters and punctuation than are accessible using the keys on a standard keyboard (note that there are also subtle differences between a Mac and PC keyboard which can also mean Macs are affected by this same issue). These characters are typically accessed by holding down the key on the virtual keyboard to reveal the additional characters: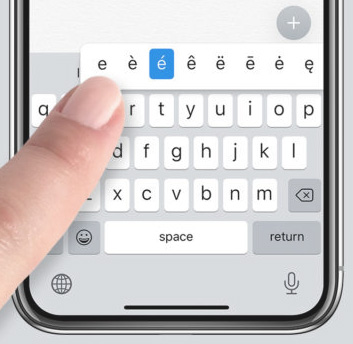 What this means in practical terms is that is the end-user in the app enters one of these characters and it is not included in the fonts character map, the character will either display as blank or be substituted by the browser using a fall back font. Either one of these responses is problematic from an order perspective as the order will either a) not generate a character at all or b) generate the character in a fallback font which does not match the design font.

There are two preemptive actions which can be followed to mitigate the chances of this problem occurring and a means to fix problematic orders after the fact (although this should not be relied on as it will not work in all cases).

- Preemptive action #1: Use a font with a complete character set

Sounds obvious because it is.

Make sure that the font you are using is Websafe and has an extended character set which includes all special characters and variations that you wish to be available to the user.

All characters can easily be tested both from a Preview and Output perspective by using the Print Test feature on any product that is using the font in question. It is especially important to check the Output file as this could cause costly errors in production.

- Preemptive action #2: Add input rule validation to your text areas
The second is to add validation to your text areas to include an input rule. There is more information on input rules in this dedicated article:

Input rules allow you to specify which characters the text area will accept from the user eg: Whole numbers only, Letters only, ASCII etc.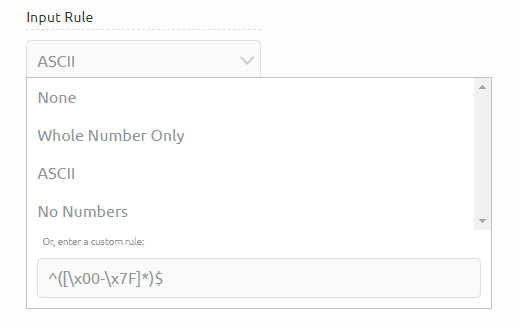 All of our standard apps support input rules and we would recommend that if nothing else you set your text areas to only accept ASCII as this will prevent the majority of problems with rogue fonts. If you want to make it water tight then the Input pattern code can be modified to add and remove specific characters.

Corrective action #1: Replace the personalisation text on the order in OMS
If you should receive an order with a missing or substituted character it may be possible to correct the problem in OMS if the product was created using Product state.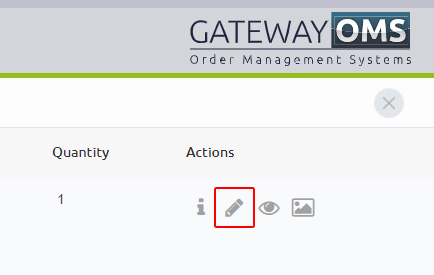 Edit the personalisation of the order (pencil icon shown above) and check the User Text and Final Text fields. If the user has used a glyph which is not included in the font's character map, you can edit the text in the Final Text field and replace the character they entered with an alternative.

Eg: Perhaps the customer used a grave accent instead of an apostrophe but the font does not include a grave accent character.

If you delete the grave accent character and input a true apostrophe and save the changes, the system will queue and generate a completely new print job.

Check the new output file and that should correct the problem. If not, try using the
live edit
feature instead (eye icon in image above) and see whether the character you have substituted is recognised. If it works in the preview and not the output then neither character is included in the font character map but this is extremely unlikely as the apostrophe is such a basic symbold.