How Supplier Feeds work

Where can I find Supplier Feeds?

Supplier Feeds are available in the Sales module in the Custom Gateway platform.



What are the requirements for entry to list my products in Supplier Feeds?

There are four main requirements that must be met in order to list your product in Supplier Feeds:

1. A subscription to the Catalog module (formerly CPP)

So that you can create or upload your products to the Custom Gateway Platform for retailers to access.

2. Products set up in the Custom Gateway Platform

Including a commitment to add new products and keep existing products updated.

3. Pass the Supplier Feeds Data Audit

Our automated audit ensures products meet retailer requirements.

4. Order Integration

The ability to download orders and update them in the Custom Gateway Platform - either by using the Sales module (formerly Gateway OMS) or having a direct integration with your own workflow system.

The Data Audit Tool (DAT) allows you to review product data and submit products for Approval to Supplier Feeds. Its purpose is to help ensure that only retail ready products are added to Supplier Feeds and made available to Retailers.

The DAT automatically reviews product data and rejects any product that is not considered to be 'retail ready' - in accordance with the acceptance criteria. This serves to highlight any missing or inaccurate data, allowing you to update your products accordingly and successfully pass a subsequent data audit.

Default apps

There are many standard app layouts available in the Custom Gateway platform that can be used with on-demand products.

To keep things simple for Supplier Feeds though, we recommend sticking to two apps when setting default options against your products:

Stepped for live preview products*

No Preview for no preview products*

Not only does this simplify things for you as the Supplier, it also ensures consistency for the retailer between individual products listings. In addition to this, these two apps are designed to be mobile responsive and are optimised to offer the best user experience to all customers.

*The current version names of these apps at the time of writing are stepped3 and nopreview3

1. Select your Products

Using Product Manager, select the products that you wish to submit to be audited. This might be one product, several products, or an entire category of products.

2. Submit to VPW

Use the Bulk Action menu which appears at the top of the product list to select the Audit Data and Submit to VPW option. This will automatically run the data audit on the selected product(s).

Successful products get passed into the Product Approvals system for final Supplier Review.

Any failed products are highlighted in
RED
in Product Manager. This serves as a visual notification that the product is not currently eligible for Supplier Feeds.
You can access each product to obtain information on why the product failed the data audit (see example image below). You can use this information to update your product, and resubmit to pass the audit.


It is possible to hide the error message from a failed audit on a product by expanding the Misc tab under the Product Basic Details page and disabling the Has Error option. Note that this will not prevent the product being failed again should it be submitted for audit, the error highlighted must be addressed for the product to pass.

1. The submitted products must meet the
criteria
that the audit tool uses to assess retail readiness.
2. Blank products cannot be added to Supplier Feeds, only Virtual products will pass an audit.

3. Your products must contain all relevant e-commerce data, Legacy pricing, and Pricing Beta information to successfully pass the Audit.


Note that at of the time of writing, Pricing Beta can only be used to set pricing for Shopify stores.

The Approval process

Retail ready products get added to the Product Approvals system following a successful data audit.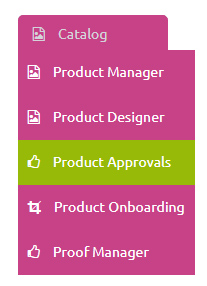 If successful, you will then take full ownership of the Approval process whereby you are responsible for carrying out any final Print and Preview tests to ensure the Product is fully functional and suitable to be added to Supplier Feeds.

Click to Approve - by approving the product for Supplier Feeds you are confirming that it is fit for purpose and acknowledge responsibility of the Approval and subsequent listing.




Categorisation of products
Following the Product Approval step, you will be asked to categorise your product in Supplier Feeds. This must be within your own Company folder inside the main Personalised Suppliers category.

If you already have such a folder you can add the products directly to it.

If you don't already have your own folder within the Personalised Suppliers category, follow the steps below.

1. Create a new category in Catalog (formerly CPP) for all the products you wish to be available in Supplier Feeds

2. Create an icon image which represents your company brand that will be used as the tile for the folder

This PSD file
can be used as a guideline template for creating the tile for your folder. The PSD has been pre-sized so it will display correctly. Please add logos or the artwork you wish to use to the 'Artwork' group in the file (which is masked to give it the rounded corners needed). The final image should then be saved out as a PNG file, we recommend that once the file is saved it is further compressed using
https://compresspng.com/
or
https://tinypng.com/
to optimise the file size fully.
3. Upload the file as your category thumbnail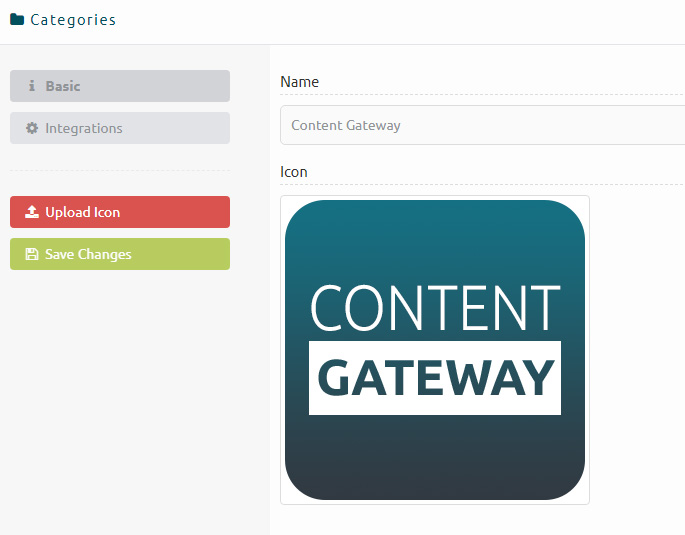 Remember that your category tile will be seen by all retailers using Supplier Feeds so please use a good quality image of your logo to encourage them to check out your product range!

Once that has been confirmed, you will be able to Approve your audited products into the category directly going forwards.

Retailers with a Platform Subscription

Retailers with an active Platform subscription get access to select products and download retailer Feeds via the system. This process will automatically create a dropship connection between the two parties once confirmed by the Supplier. For reference, this process is covered in this lesson of our Academy course:
How to download and sell products >>
Any other Retailers

For any Retailers that do not have an active subscription to access the Custom Gateway Platform, a connection can still be made but the Supplier is responsible for establishing and managing the company connection directly.

Our
Supplier Directory
is publically available to all Retailers to access. This gives Retailers all the information they need to reach out to suppliers in our network, build connections and start selling. When a Retailer wishes to list your products, they will contact you requesting your Supplier Feed. It's important that during this conversation you determine which selling platforms they will be listing your products on and also the file format that they require the feed to be provided in.
Once you have that information;

Navigate to your category within Feeds > Personalised Suppliers > Your Supplier Category > All.

From here you can press the Feeds button towards the bottom-left of the screen and in the pop-up window select the selling platform that the Retailer requires.

On the next screen select the Retailer from the drop-down list, the currency necessary and also the file format they will use to add the products.

Once the retailer has been supplied with this file then can choose to add some or all of the products to their selling platform as required.

FAQs

How do I de-list products from Supplier Feeds?
2. Remove the product from your category in Supplier Feeds. Ensure that it is still set to another category in your own company category structure (like an archive category) so that you will still have access to it if needed


Important Note: As the Supplier of the product, it is your responsibility to communicate to the Retailers using your products from Supplier Feeds if any product is due to be de-listed. This gives the Retailer time to remove or deactivate the product listing from their website or e-commerce marketplace.