Overview

It is now possible to upload EMB and DST files and apply them directly to Products in the Smartlink. These files will then be accurately previewed, and the file adjusted based on any scale or positional changes. It is also possible to add Embroidered Text personalisation to the design to produce a single EMB / DST should that be required.


Important Note: This article is written on the presumption that the user has a good understanding of the product creation processes and setup requirements and familiarity with CPP.

THE TECHNICAL BIT:

There is limited compatibility with advanced Image Area features/options on CPP. It is recommended that you use only the basic Move, Rotate and Scale functionality.

Generated stitch files will incur a standard rate file creation charge of £0.50 per EMB/DST for pre-digitized content.

What are the benefits of uploading EMB / DST files?
No 'Autodigitization' costs (standard file generation costs still apply).

You can upload all of your stitch files to a Gallery (or multiple Galleries on CPP). This allows your embroidery designs to be used across all of your Product range!

You can edit designs in the Smartlink! This includes adding text personalisation to compliment your existing EMB / DST file.

Which is a better upload format, EMB or DST?
Generally we advise that users upload EMB files where possible. An EMB file is Wilcom's native 'all-in-one' stitch format. It is becoming increasingly popular format due to its unrivalled stitch processor, true object based design and stitch quality. Everything is saved in the one file – stitches, colours / colour sequence information, production instructions, design outlines. This essentially means uploaded EMB's preview in the App with the relevant colour design elements, and is then delivered as an Output file with the same information.

Why are there costs involved if I already have the files?
There are 3 processes that occur when EMB / DST files are supplied and used within the App;

1) The TrueView embroidery image of the design has to be retrieved so that the file can be effectively previewed within the App.

2) The embroidery files have to be altered to fit the size of the personalisation area that they are being applied to. This is what allows you to use the same, single size design across multiple products with varying sized personalisation areas. This also allows the files to be edited in scale, angle and position interactively by end users.

3) The selected EMB/DST file can be merged with any input text within the same Print Area to deliver a single, merged embroidery file.

I WANT IT - TELL ME HOW!

The setup requirements are very simple.

1. CREATE YOUR GALLERY

Access Settings > Galleries. Create your Gallery and Upload all of your EMB / DST files: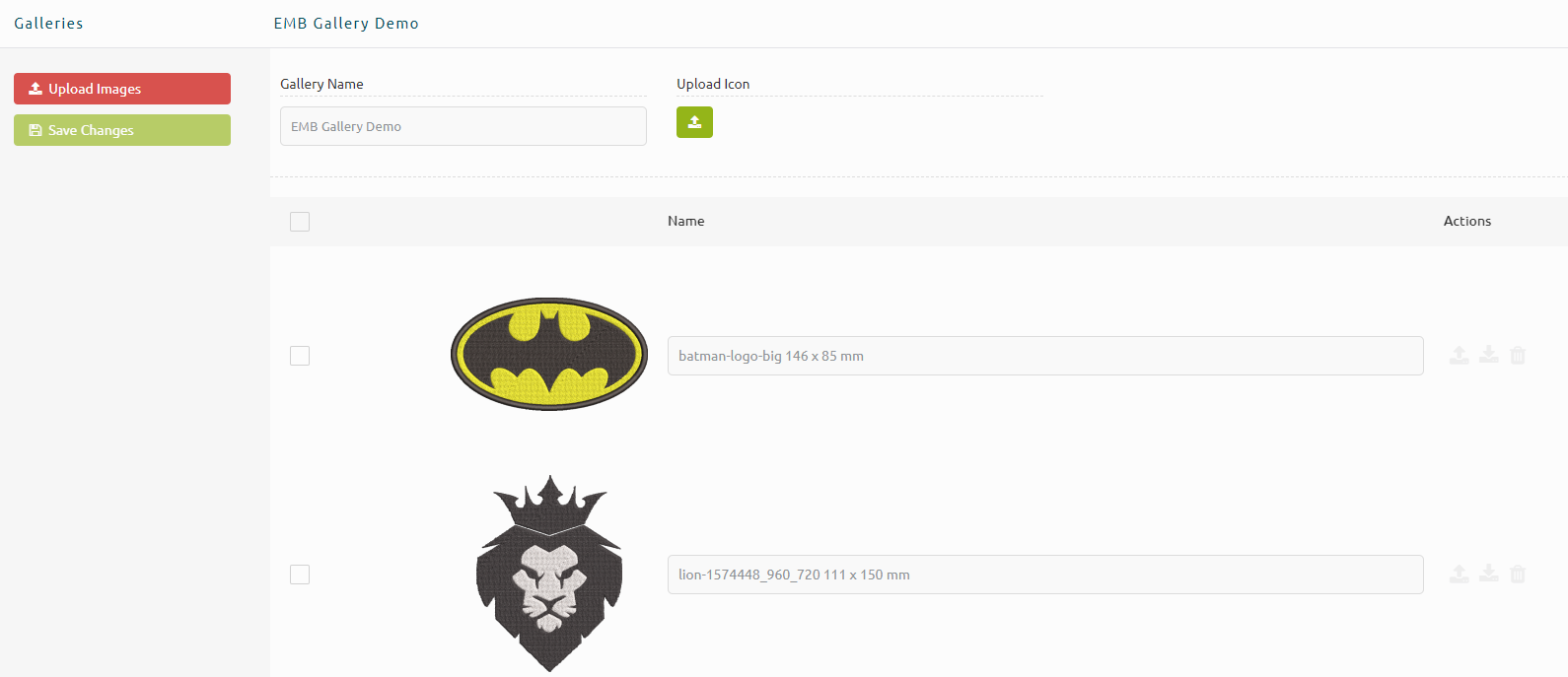 2. CREATE YOUR PRODUCT / SET IMAGE AREA REQUIREMENTS

Set up your Products. Make sure the Image Area that will be used for EMB/DST upload is set to Embroidery as the Production Type. It is advised that all Image Areas being used for embroidery should have the 'Fit Mode' set to 'Largest Side (Contain)' to avoid any undesirable cropping.

The Image Area should then be linked to the appropriate EMB/DST gallery via the Gallery menu.

3. ACCESS PRINT TEST

Print Test will allow you to review the gallery functionality on the product.
Whats Next?
If necessary, you can place test orders to generate the stitch files to ensure suitable for production. If you are a new customer, work with your Onboarder to do this - existing customers can visit our support portal for self service help:
https://support.custom-gateway.com/portal/en/home
Once you have the file from Order Manager, you can then open the EMB/DST file in your embroidery software to ensure all is as it should be.