The Autodigitization feature allows you to upload images and logos to a Product and preview them as 'embroidered' designs. When an order gets placed, Autodigitization delivers embroidery stitch data in an EMB or DST file via our Order Management System.

The stitch data will be stitch able, but not guaranteed to be suitable as is or optimum for production. Some checking and/or editing may be required before production, depending on the number of pieces to be embroidered and the value of the order involved.


Important Note: This article is written on the presumption that the user has a good understanding of the product creation processes and general setup requirements.

This feature is currently compatible with ACP3 Smartlinks.


Important Note: Autodigitization is not compatible with Image Galleries, the user must add an image via the image upload button within the App.

To generate stitch files, your company account must be set to deliver EMB or DST files (this has to be set by Gateway staff - as a new customer please discuss with your Onboarder. Existing customers can visit our support portal at
https://support.custom-gateway.com/portal/en/home
and create a new ticket with the request.
For each specified print area on the product, there should only be one associated image upload opportunity for the end user. For example, on a T shirt with a Left Chest Print Area, the user should be able to upload a single image for Autodigitization purposes.

The file size of uploaded imagery / artwork should be less than 2MB.

The pixel count of uploaded imagery / artwork should be less than 5,000,000 pixels.

Generated stitch files will incur a standard rate Autodigitization charge of £1.99 per EMB/DST file delivered in Order Manager.

What are the benefits of using Autodigitization?
Autodigitization delivers embroidery stitch data from a standard image without human intervention. This has the potential to save huge amounts of time and money on manually generating embroidery files. We estimate that on average, it will do 70-75% of the work for you.

It delivers a real-time TrueView embroidery simulation of the uploaded image. This will give customers a more accurate product visual and better interactive experience, which will lead to an increase in conversion rates.


What files are supported?

Bitmap formats: PNG, GIF, TIF, JPG, JPEG, BMP

Vector Formats: AI, PDF, EPS (files have to be accurately scaled)

How does it handle background colours?
Background colour will be automatically removed during the Autodigitization process. We highly recommend the use of high resolution PNG's with transparency for optimum results - as this avoids any potential issue with the automated background removal.

In some scenarios, the results from the automatic background removal may not be desirable. For example, images with a white background, that also features white elements on a logo, will result in all white areas being removed automatically. This is because the feature cannot distinguish between what is background and what is artwork/imagery.

In this case it is possible to manually control the background removal using the Interactive Background Removal Tool. You can use this to target the areas that you want to be removed (see image below). It is important to educate and guide Users on this process and the options available to achieve the best results. If the order is already placed containing the undesirable background, then the stitching can be deleted in the stitch file.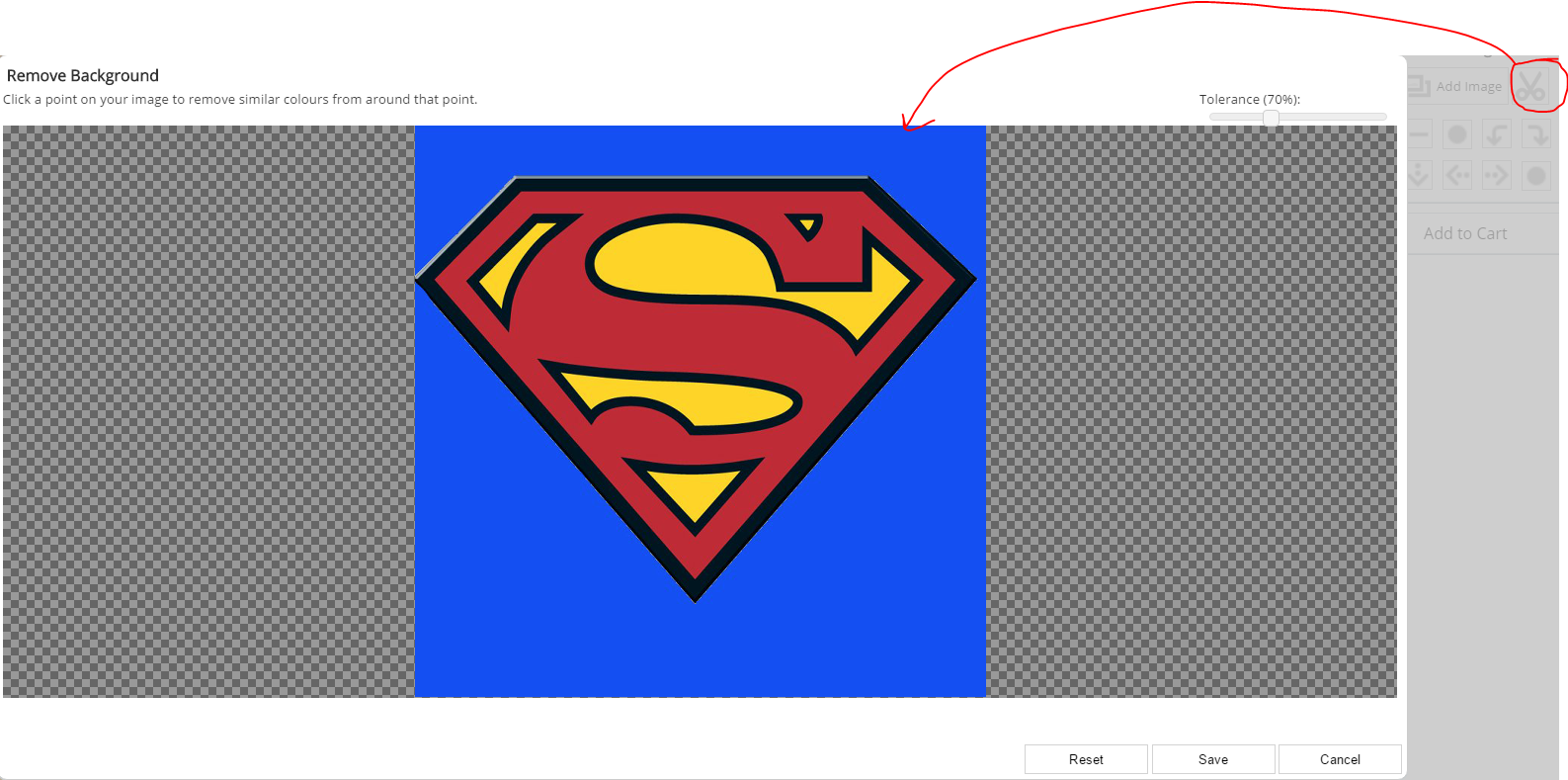 What information does the delivered file contain?
Generated embroidery files contain Stitch Count, Colour Information (EMB), Width and Height, along with other stitch data. The image below shows an example output file and the associated information:


How do I achieve the best results?
ENOUGH ALREADY - TELL ME HOW TO DO IT!

The Product setup requirements are very simple. Firstly, you need to create your product with a Print Area using the conventional methods. At that point:

1. CREATE YOUR IMAGE AREA > Production Type

Under the Image Area Options Rollout, make sure the Production Type is set to Embroidery.



It is advised that all Image Areas being used for embroidery preview purposes should have the 'Fit Mode' set to 'Contain'to avoid any undesirable cropping of logo's.

2. USE PRINT TEST TO REVIEW THE FUNCTIONALITY AND PREVIEW

In Print Test, upload an image - this will automatically trigger the stitch preview, giving you a simulated stitch effect.

3. PLACE TEST ORDERS TO REVIEW THE EMBROIDERY FILES

If necessary, you can place test orders to generate the stitch files to ensure suitable for production. If you are a new customer, work with your Onboarder to do this -
existing customers can visit our support portal for self service help:
https://support.custom-gateway.com/portal/en/home
Once you have the file from Order Manager, you can then download and open the EMB/DST file in your embroidery software to ensure all is as it should be.
The EMB files can be accessed via Order Manager.

You can then open the EMB/DST file in your embroidery software to ensure all is as it should be for production.