DTF Workflow 1 - BASIC Cut & Sew Micro-factory
WORKFLOW OVERVIEW



This article details the Microfactory Workflow solution for '
BASIC Cut and Sew
' textile products
made from a single fabric type. This workflow is best suited for
simpler textile products of fewer pieces eg. C
ushions, Face Masks, Tote bags etc.
The Workflow is Jobsheet driven – the Jobsheet should follow the order on the work floor and is used to progress through the various Scan Points via the associated barcode. The Workflow is flexible and offers several optional stations including Basic Kitting, Sewing, Branding, and QA.


Please Note: This workflow document is written based on utilising Kornit hardware and associated software and assumes some familiarity with the Platform and Product Creation process. The Workflow may work with other hardware / software, although it should be considered that it may not be possible to utilise all stations as outlined in this document.

*Note - This workflow can also be used for multi-piece garments IF no automated nesting is required - in this scenario all associated item pieces are printed together in a 'block' - this layout should be provided by the Fulfiller based on fabric width / desired position and orientation of pieces.


CUTTERS: Use of automated cutters is supported, but the type of cutter will impact both product configuration and artwork generation requirements;

Zund Cutters require Vector Artwork with specific cutline layer information

Gerber Cutters requires Raster Artwork with a printed cutline at least 2mm thickness.

FLOOR WORKFLOW DIAGRAM
The workflow features possible 10 steps, with 4 of these being optional.

In some scenario's the full cut and sew process may be handled externally and therefore it is viable to go from Step 5 straight to Dispatch.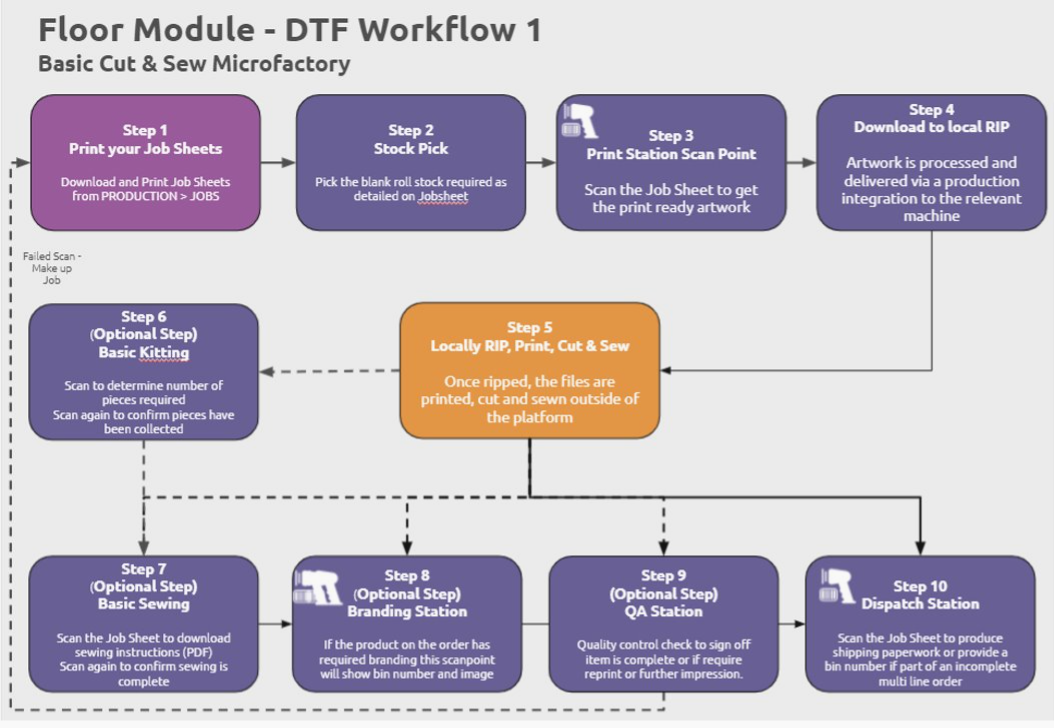 FLOOR EXAMPLE - STEP BY STEP
Step 1 - Print Jobsheets

Go to Production > Jobs to see a list of Jobs that are Pending Production


PLEASE NOTE – IT MAY TAKE SEVERAL MINUTES FOR THE PRODUCTION JOB TO GENERATE AND APPEAR IN THE LIST

Select the Job(s) that are Pending Production and Download Jobsheets

This will download the Jobsheet which should be printed for order traceability:

Step 2 - Pick Stock

Pick and load relevant fabric roll into the machine.
Step 3 - Print Station

Go to Floor (v3) Print Station
Scan the
Jobsheet
Item Barcode to display the item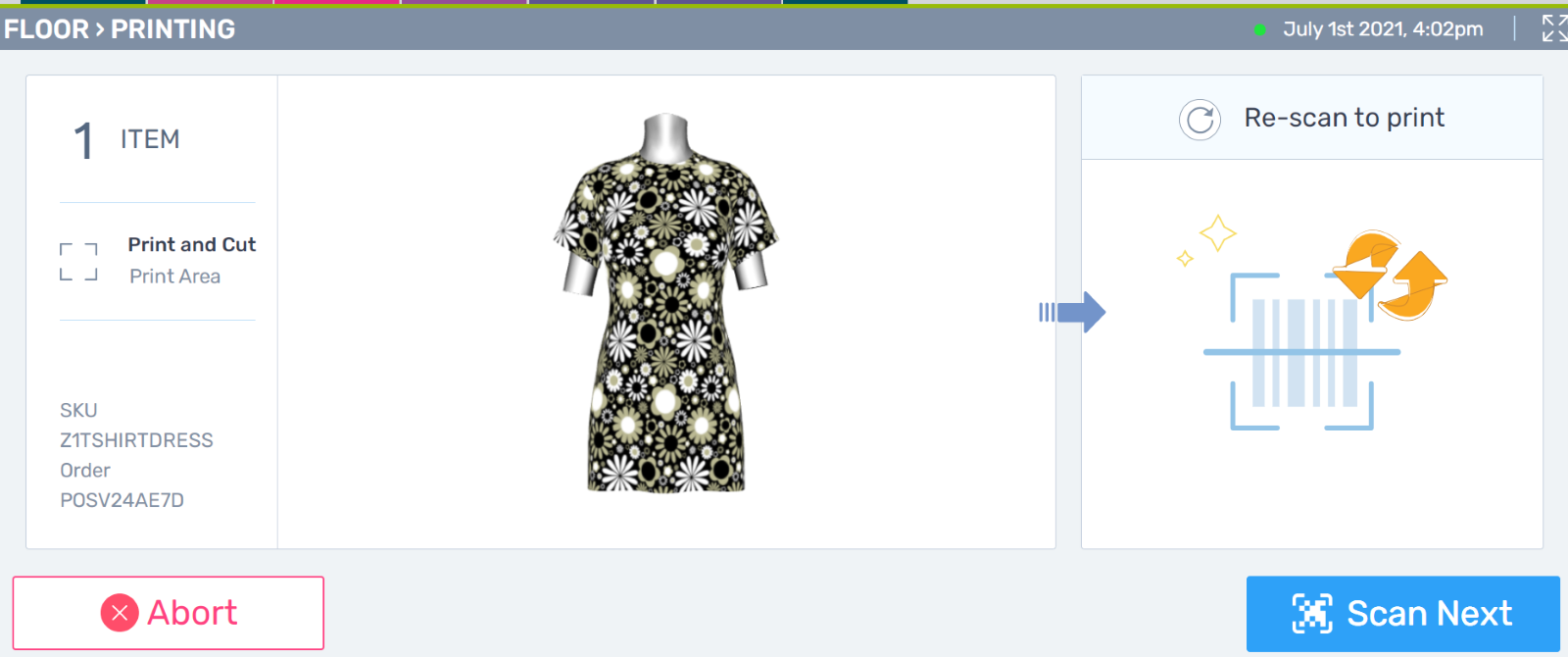 Scan again to Download Artwork / Print and confirm ready to print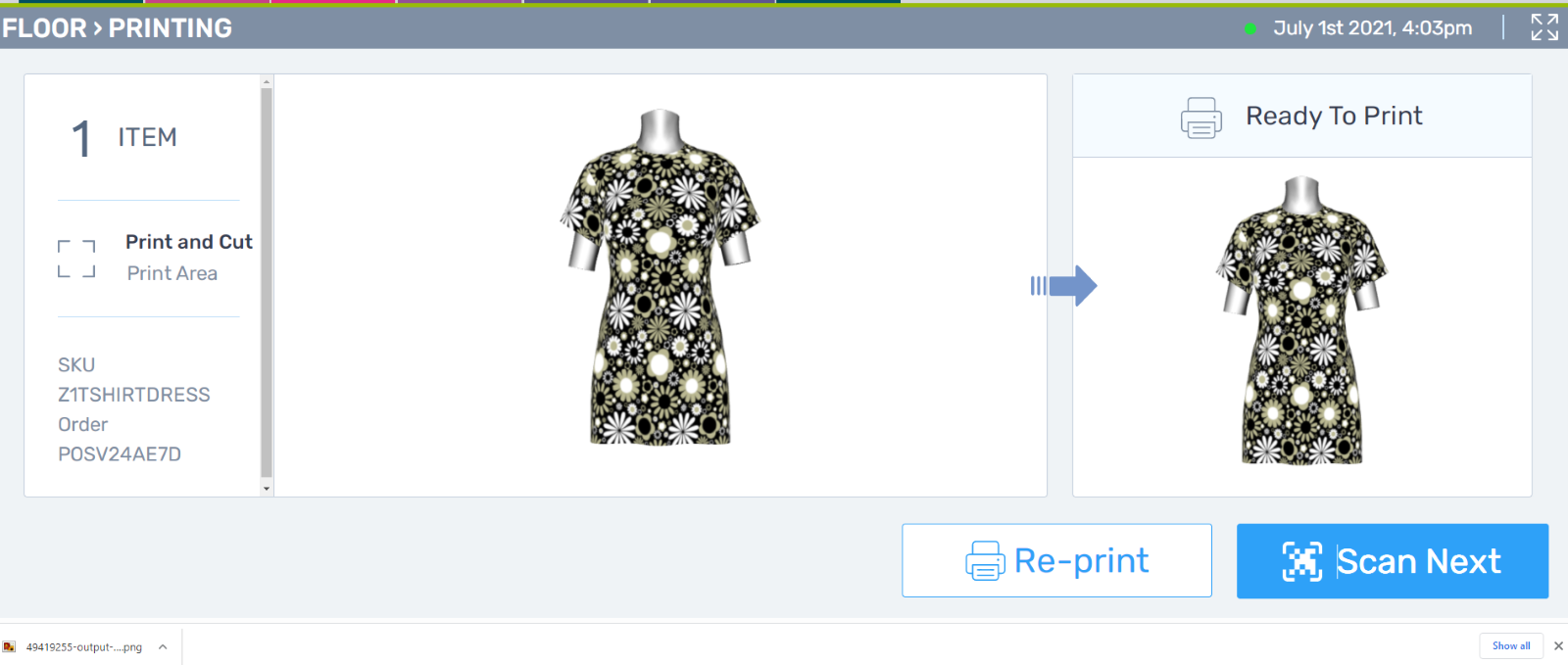 Step 4 - Download to Local Rip

Artwork is processed and delivered via Production Integration to the relevant machine.

*Hotfolder feed can be enabled to pass automatically to be ripped ahead of time.

Step 5 - Local RIP, Print & Cut

CalderaRIP is installed locally and used to pass files to the Presto, although the workflow does allow other rips / printers to be used. Depending on the product requirements and associated cutters, CalderaRIP can:

Add registration marks / dots for print alignment

Separate artwork vs cutline information (IF using Zund cutters)


Add cut QR codes for automated cutting (IF using Zund cutters)
The item is then Printed and Cut.

Step 6- Kitting Station (Optional - only required for multi-piece items)
Go to Floor v3 Kitting Station and scan to determine Number of printed pieces to be collected


To utilise the Basic Kitting Station (as recommended for multipiece items) - the Blank product must have an internal Attribute called 'KittingPieces' with a value specified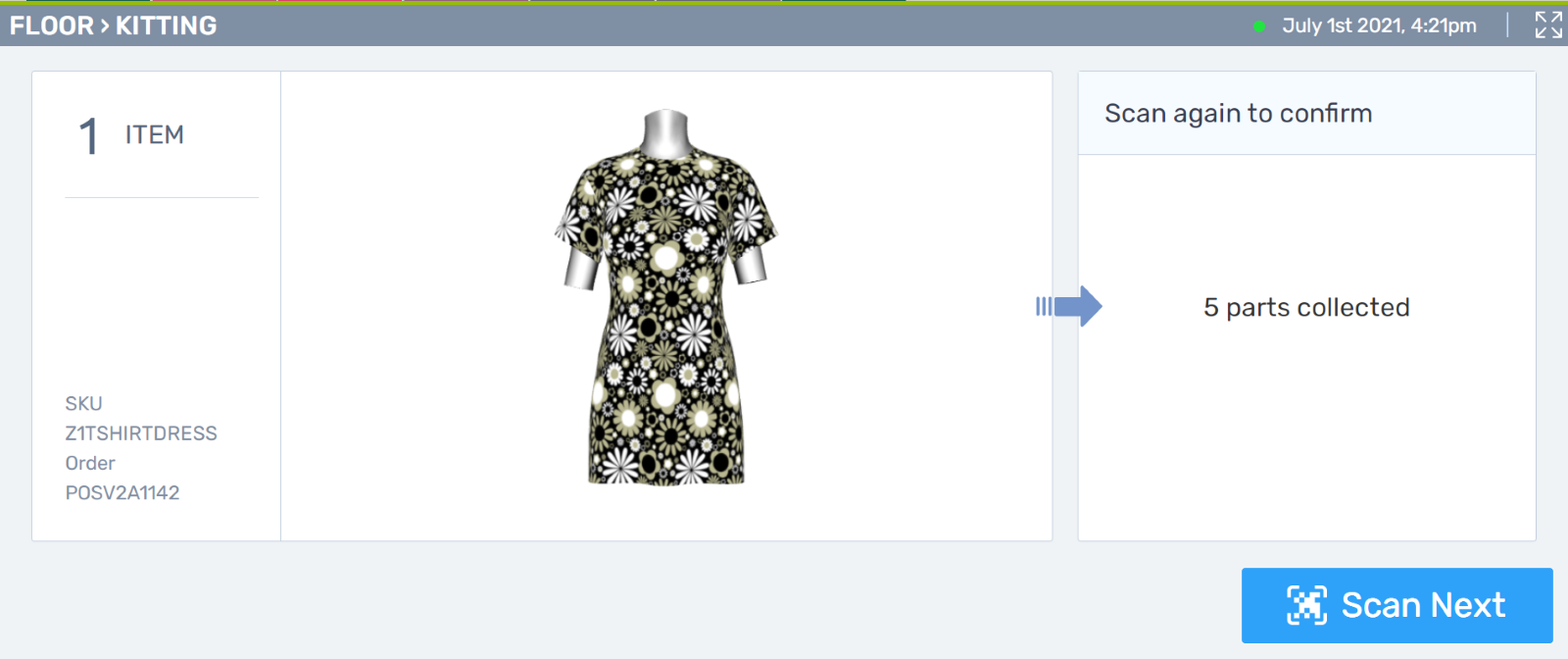 Scan again to confirm collection
Step 7 - Sewing Station (Optional)
Go to Floor v3 Sewing Station and scan to display / print the associated Sewing Instructions.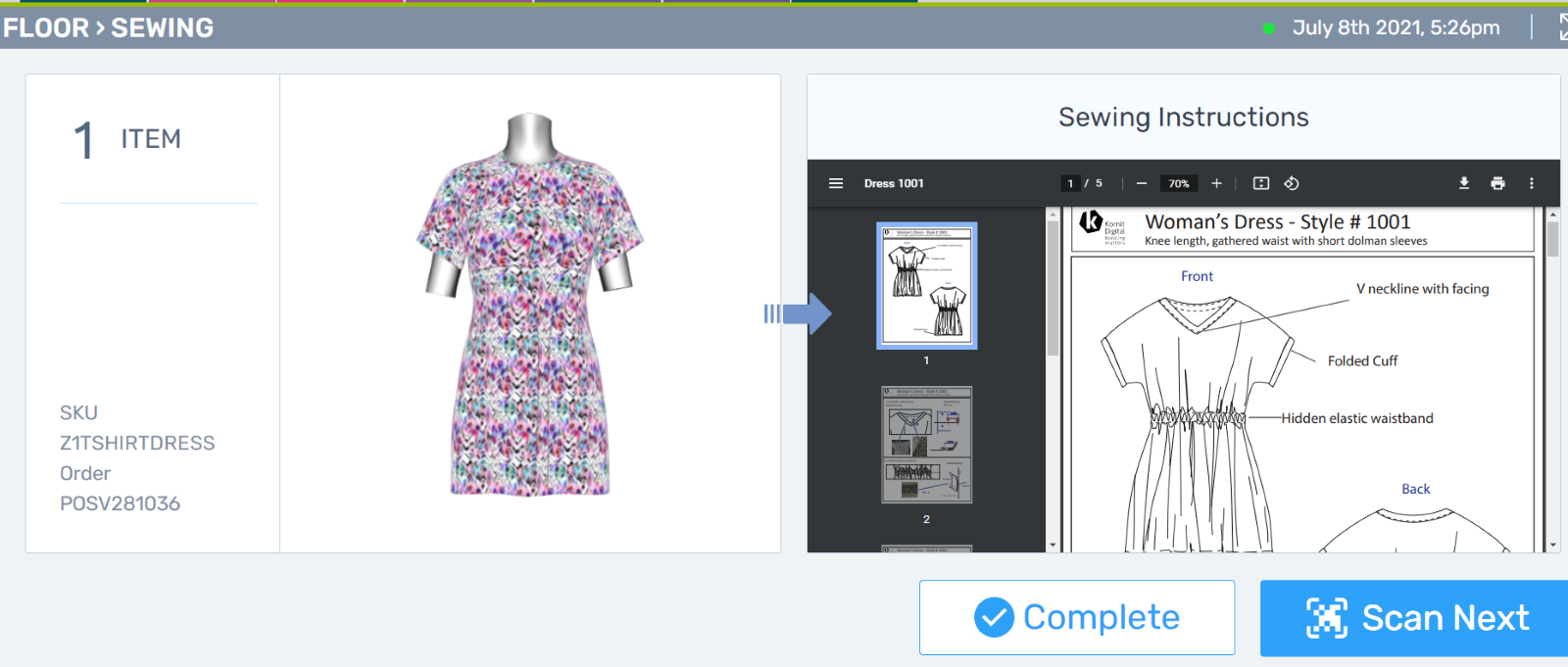 Step 9 - QC Station

Go to Floor v3 QC Station and scan to Start QC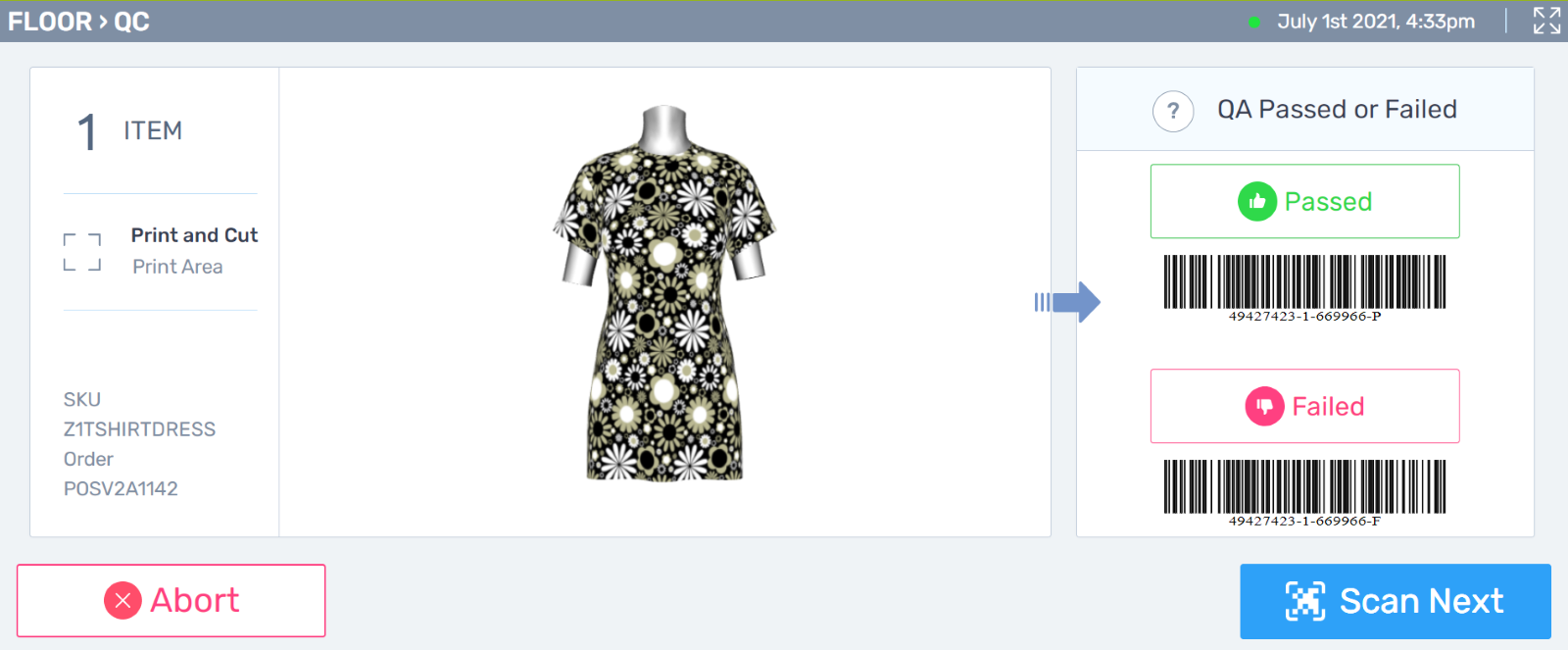 Step 10 - Dispatch / Packing Station
Go to Floor v3 Packing Station and scan to generate shipping label and dispatch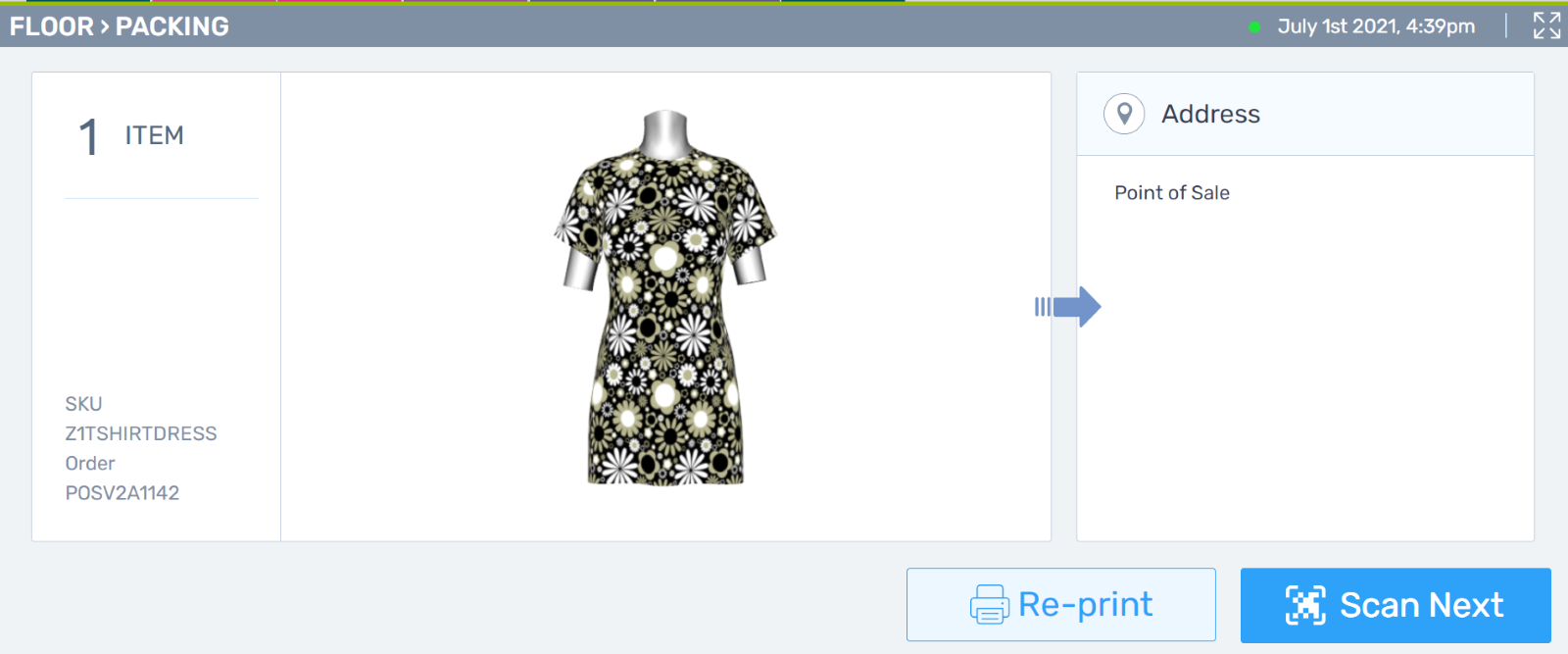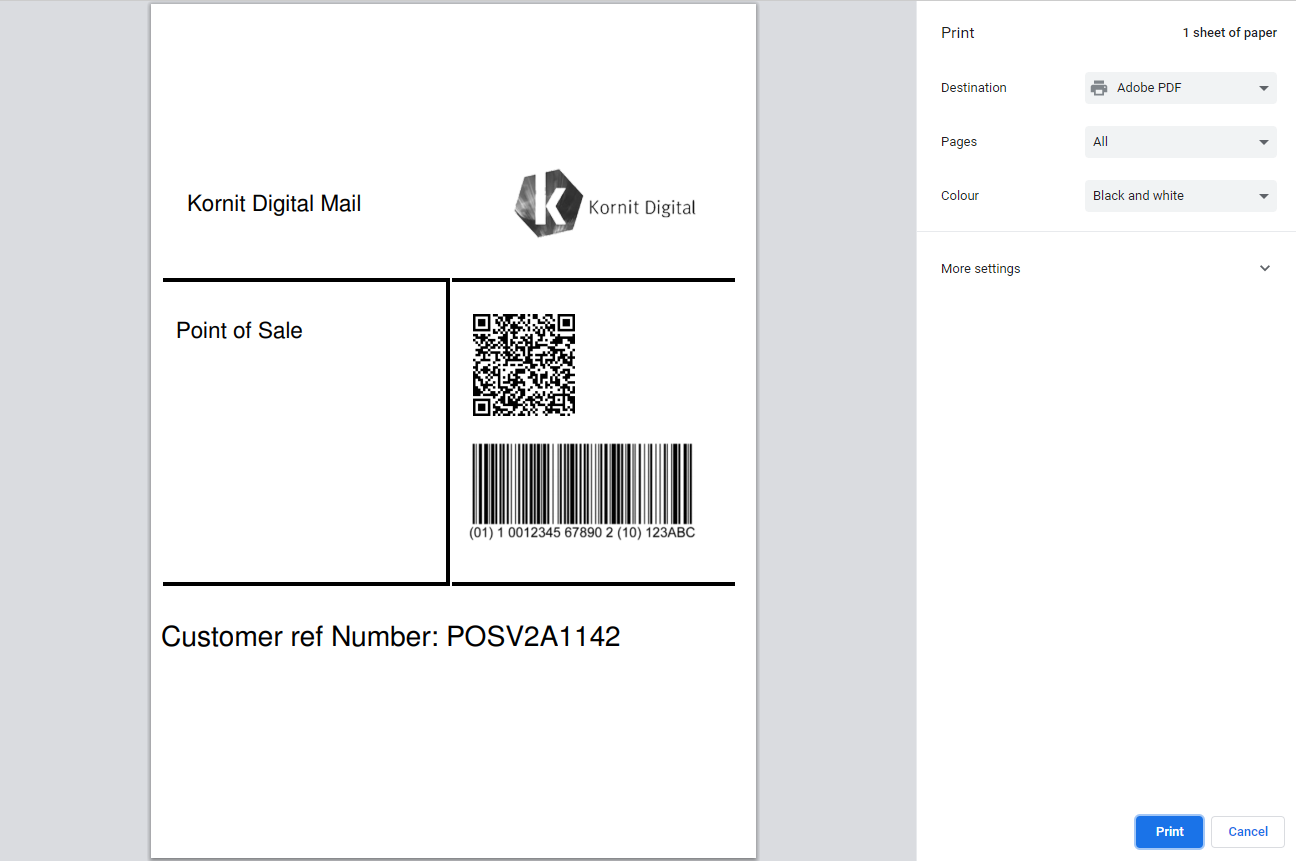 CONFIGURATION OVERVIEW
Catalog Products
Live Preview Products (Blanks / Virtuals) must be configured in Catalog based on the Fulfillers Print Specification.

2d / 3d Blanks products are supported in this workflow, although generally some DTF product types are better suited to one space over the other to offer the best 'live preview' experience to end customers;
2d is generally best suited to 1–2 piece textile products, eg Cushions, Blankets etc. 2d DTF Blanks can be created by fulfiller OR via Kornit X Paid Product Creation Services.
Print Specification



All DTF products must be created based on the Fulfillers Print Specification / Template. If using Kornit X Product Creation Services, this information must be supplied to allow scheduling and is critical to achieve desirable artwork generation results; we need this information to understand the required shape, orientation, bleed, cutline information and position of each component piece to deliver it in the final print file.
For 'multi-piece' items using this Basic Workflow, the Fulfiller can define the location and orientation of printed pieces of the same product within a single block (rectangle) of fabric. This is not dynamic, although it does offer some control of fabric utilisation for the Fulfiller on a per product basis.
At product level within the Platform, the product is configured to accurately match the Print Template, which can the feed into Production Jobs for the purposes of order consolidation:

For simple textile products, each piece is defined as an individual Print Area, eg. for a Cushion there would be 2 Print Areas for Front & Back.
If a non standard shape, then each Print Area requires a Print Mask to control the artwork shape and reduce ink wastage.

Each Print Area is added to a single Print Layout to match the Fulfillers Print Template – eg for a cushion the Front and Back pieces are merged together and printed as one piece of fabric, as opposed to 2 separate pieces.
Raster / Vector cutline and additional piece information / barcodes / notches can be added to the final print artwork if required - this is uploaded to the Print Areas on the Blank product as cutline artwork.
Functionality



Standard customisation functionality is available for both 2d and 3d products. This includes:
Colour Areas (Per item piece or sync across all pieces)


Image Upload or Gallery designs (Per item piece or sync across all pieces)


Text Input (Per piece or sync across all pieces)

For complex garments or multi-piece products, Size choice is generally offered via
Smartlink
Configuration; Product Selector - each size must be configured as a separate Blank Product due to the specificity of the print requirements. Simpler products such as cushions can utilise Print Sizes to offer artwork scaling and size variations of the same Aspect Ratio.
Attributes
To utilise the Basic Kitting Station (recommended for complex multipiece items) - the Blank product must have an internal Attribute called 'KittingPieces':

Production



Orders can be grouped / consolidated via Job Templates based on Machine / Fabric Type / Product type. Different types of Job Template can be used to manage the Production efficiently depending upon the type of product being printed, eg;
Single piece or simpler items such as F

ace Masks or Cushions =

Artwork Processing

to batch multiple orders across a large piece of fabric prior to printing. In this scenario, each printed item can be configured to generate its own barcode. The image below shows 22 individual Face Mask prints from separate orders, laid out in an Artwork Processing Job Template: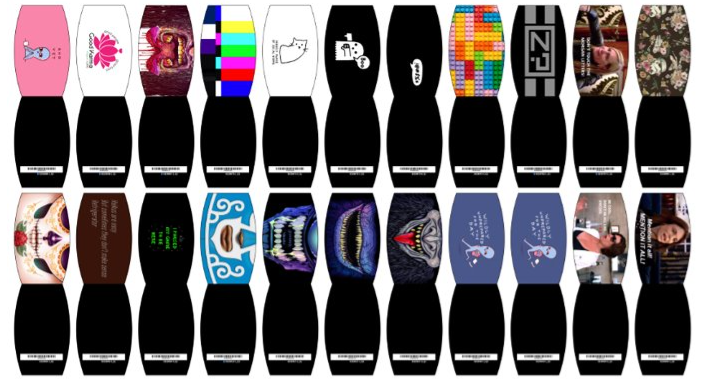 Multi piece item such as fashion

garment =

Consolidation

to group inbound orders ready for production (orders of 1, containing the Print layout 'block' of all associated pieces). An example of this can be seen in the image below where each colour group identifies a single garment and all associated pieces: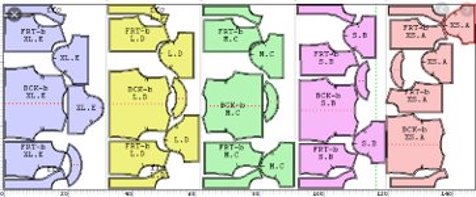 What is the difference between 2D and 3D Cut and Sew products?

2D Products are previewed via a flat image, such as a photograph or line drawing.
2D Products are generally faster to create, and can be created by Platform Fulfillers.
Multi-piece items (clothing) must be represented as a line drawing in 2D, which can look quite abstract and therefore not always considered desirable.



3D Products are previewed via an interactive 3D model.
3D Products are more complex, take longer to create and can only be created by Kornit X paid product creation services.
How do I set up a Consolidation Job Template?

How do I set up an Artwork Processing Job Template?

Related Articles

DTF Workflow 2 - ADVANCED Cut & Sew Micro-factory

WORKFLOW OVERVIEW This article details the DTF Microfactory Workflow solution for 'ADVANCED Cut and Sew' textile products made from a single fabric type. This workflow is best suited for complex textile products that are constructed of multiple ...

DTF Cut & Sew Fashion Garments | Glossary

Overview This article details key industry terms and relevant Kornit X platform terms that are associated with the Advanced Cut and Sew DTF Workflow Solution for fashion garments. ASSOCIATED INDUSTRY TERMS Pattern / 2d Pattern In sewing and fashion ...

Smartlink Apps | DTF

Introduction The DTF Smartlink App is a front-end customiser that has been specifically developed to provide an effective solution for selling roll printed fabric on demand. Therefore, it is only suitable for use with fabric based Blank products that ...

Blank Products | Sewing Instructions

Overview Sewing Instructions is a new Product Asset slot that has been added for Blank Products. The intention is that this slot should be used to store guidelines and instructions for sewing items or garment panels together, as part of our Cut & Sew ...

DTF Workflow 3: Roll Printing (New)

WORKFLOW OVERVIEW This article details the Microfactory Workflow solution for 'DTF Roll Printing'. This workflow is best suited for Fulfillers that wish to sell and print fabric in multiple meters (or yards) and in fixed sizes e.g. samples and fat ...