KornitX Platform Imports & Exports - Legacy Tier Prices
What Is Legacy Tier Pricing Data?
Legacy tier pricing data is the legacy import to use for adding pricing to products that exist in Platfornm. It is incredibly important for yourself and retailers that every product that you set up in CPP contains at least a retail price. For more advanced pricing please refer to the tier price groups import article.


Legacy Tier Pricing imports must be imported as a CSV document.
This import allows you to
add the basics for pricing, those being quantity, price, RRP, carriage cost, currency, and setup costs for products. You can include adding tiered pricing (so the RRP would be less if the pricing was for a quantity of 50) and the ability to set up exclusive prices for retailers by including their 5-digit company reference code for the company within the import, this is under the column titled "
tier_price.company_ref_id
".

Pricing is essential if you are hoping to add your products to Feeds, where other retailers can access and list your products.
Can I Set This Manually?
Yes, Legacy Tier Pricing can be set up manually by editing a product and accessing the "eCommerce & Data" menu, and heading to the "Pricing Legacy" tab as shown in the below screenshots. From here you can select "Add Tier" to add a new tiered price or simply by updating any pricing that exists.

This is a perfectly viable option if you need to make small price changes or create a new tiered price with the "Add Tier" option but we recommend that you use the export/import as this is a quicker process and allows for multiple products to be updated with new prices or existing pricing at once.

Within VPW this allows for retailers to access the products and view the pricing, if a retailer has their own cost they will see this but any other retailers without access to this company would not.
How Do I Set Up Legacy Tier Prices Data With The Import?
Legacy Tier Pricing can be added to CPP via our CSV import option, proving to be the most useful and quickest option for getting pricing added to your products. To arrange this data you are best to run the "
Legacy Tier Pricing" export from within a products category and opening the file.
Once you have this file you can add your information to the correct tabs. For example, you would add you a cost price to the "
tier_price.price" column and an RRP to the "
tier_price.rrp" for examples.
I have listed the headers for this import below, it is important to note that for every price a unique tiered price ID will be created, meaning to update a price you just need to include this unique id, as well as the product id when running the import.
tier_price.id - Leave blank if this does not exist, a unique ID will exist for every price

tier_price.quantity - This needs to include your quantity, unless the product is b2b this is most likely to be left as 1

tier_price.price - The total cost price of the product to the supplier
tier_price.rrp - This is the retail ready price available to the retailers by default

tier_price.carriage - Carriage counts for the cost it will cost the retailer for delivery of the item to a customer

tier_price.price_inc_setup - If a product includes any set up you would add an additional cost with this option

tier_price.company_ref_id - Leave this blank by default as this would apply to all retailers, if you know the 5 digit ID of a specific retailer you can add this so a different RRP is given to a retailer

tier_price.currency - Important to include a currency if pricing is being offered to another region, like USD for dollar prices.

Once your file has been filled in completely with the relevant data you wish to add, you just need to access "Legacy Tier Pricing" from within the Imports section of CPP. Running this import will then automatically add this pricing or update existing pricing to your products. To check this has worked completely we recommend wither downloading the export and ensuring the data is there or manually checking from within a products "eCommerce & Data" section from within "Pricing Legacy".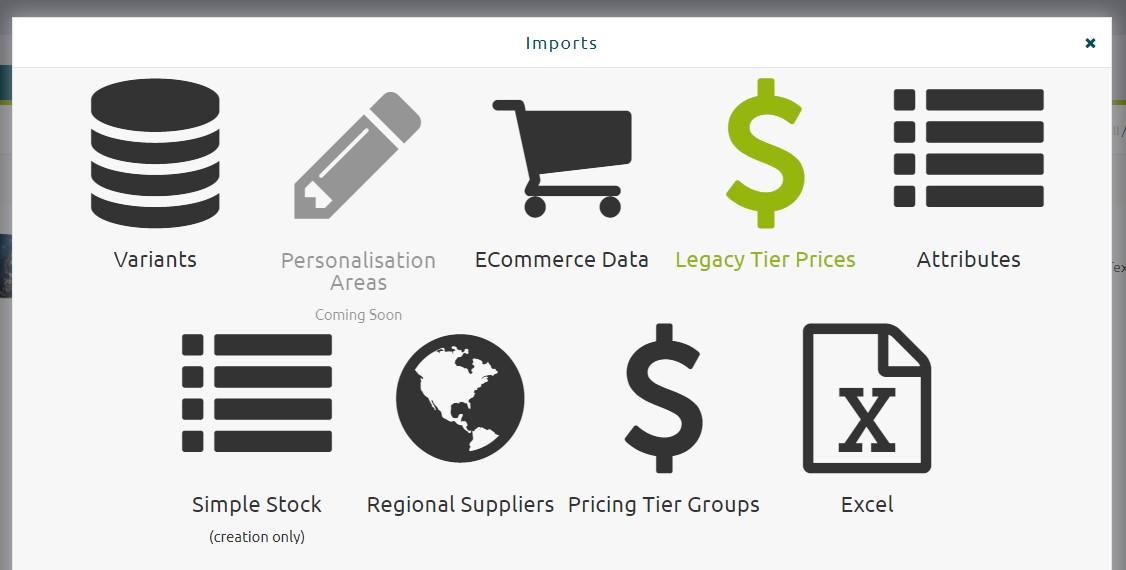 If you want to get added to the VPW we recommend contacting us, and using our data audit tool to ensure you have valid data ready for other retailers, this is shown in our screen shot below.

Can You Show Me This Import?
The following video runs through the process: from setting up our import, to importing and to finally seeing the legacy tier pricing data from manually checking a product to running the export.
Related Articles

KornitX Platform Imports & Exports - How To Set Shopify Pricing Beta

This article will be cover the options available to add pricing information to products so that they work within the Shopify app. Pricing can be set manually or via a dedicated CSV data Import. Everyone who wishes to load their products within ...

KornitX Platform Imports & Exports - Pricing Tier Groups

What Is The Pricing Tier Groups Data? The pricing tier groups import is the more advanced pricing import accessible within the platform - it can be set Cost (Ex Tax), Trade (Ex Tax), Carriage Cost (Ex Tax), RRP (Inc Tax) and Retail (Inc Tax). Below ...

Importing Tiered Prices

Tiered prices can easily be imported from CSV into CPP for multiple products and multiple companies in one. Step 1. Creating Your CSV Name Description Required product.id The ID of the product to import against. No (Unless Supplier & sku are omitted) ...

KornitX Platform Imports & Exports - Attributes

What Is An Attribute? An attribute acts as an option that can be added to a product set up, such as setting up sizes for garment products. CPP also offers to set these options internally, as separate order lines and group default. For example, if we ...

CPP | Getting Started Guide | Section 7: Exports & Feeds

7.1 Accessing Exports, Imports, and Feeds You can access these by going into product manager and looking towards the bottom left of the screen. 7.2 Exports The Exports function allows you to export your product data to a csv to review and/or amend ...