Colour Syncing
Using the Sync From feature, it is possible to automatically apply any selected colour to several specified Colour Areas across the same or different 2D Views. On multi-viewed products this is essential to maintain selected input colour when switching between views.
This 'synced' colour will then be carried through into the artwork generation process, should it be required.
In this article, we will be looking at a simple 2D Mug Product which has a full wrap Print Area defined (see Figure 1) and adding 2 colour areas to demonstrate the concept of the sync feature.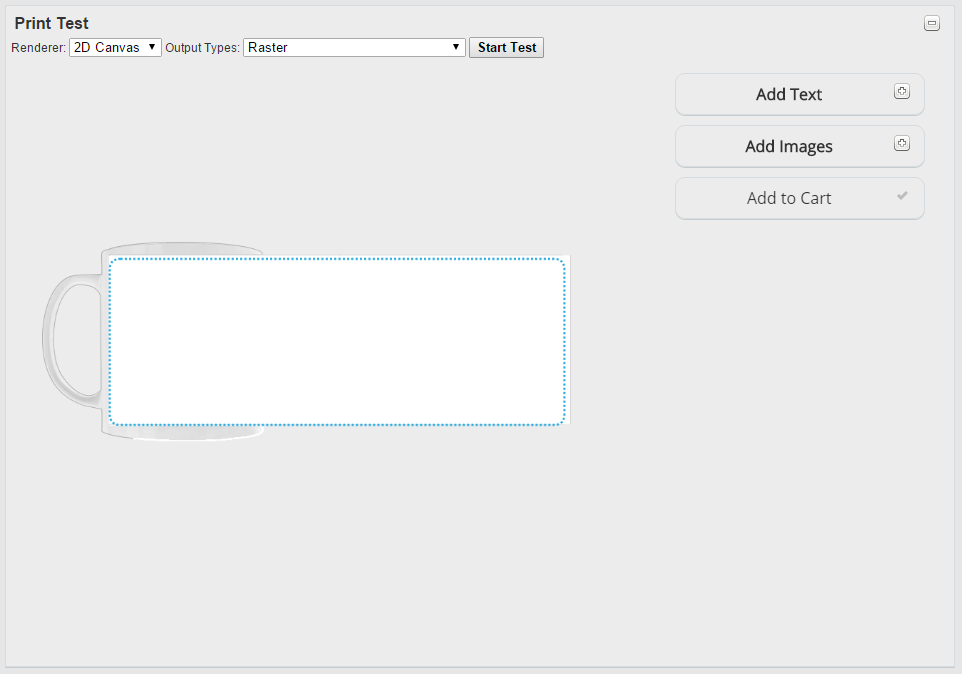 Figure 1
The first step is to create our input Colour Area (called Colour in this example). We have added a list of example colours and added a Colour Area mask to influence where the colour should be changeable on the product (see Figure 2). This is what the end user will use within the App to change the colour on the product.
Important Note: By default, the 2d View Mask will be used as a base for any added colour UNLESS a Colour Area Mask is added.
More information on Colour Areas and Colour Area Masks can be found in the following articles:
Product Creation | User Guide - Section 10: Colour Areas
Masks | Understanding The Different Types Of Masks For A 2D Product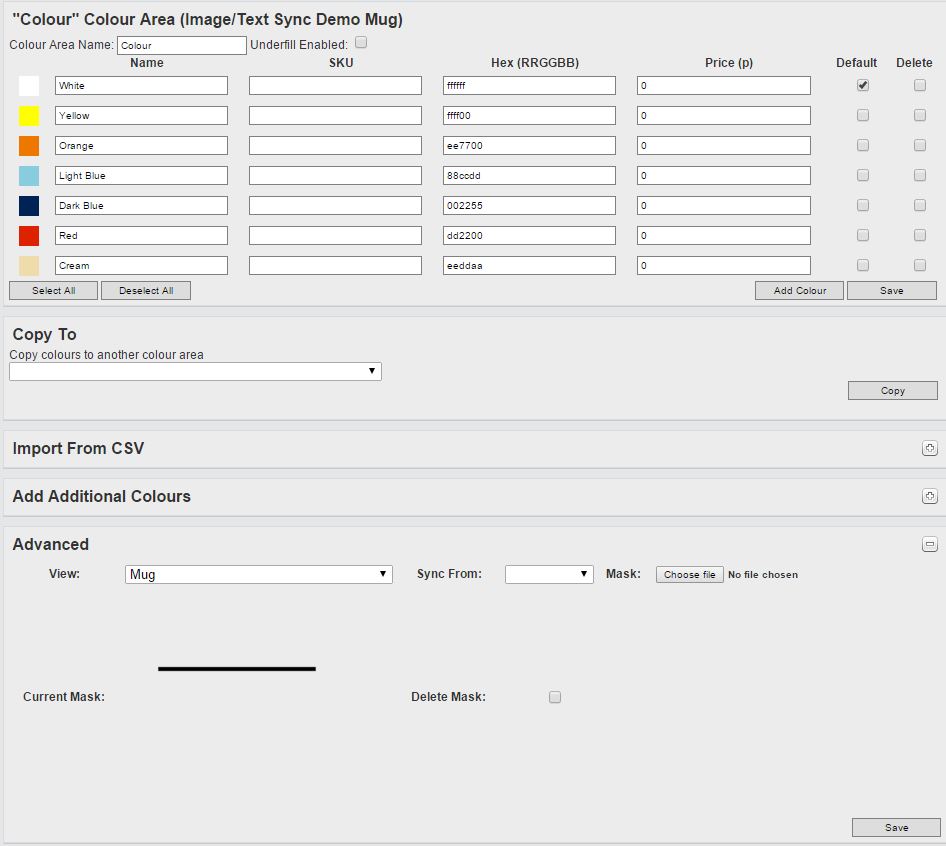 Figure 2
With the input Colour Area configured, we can then create more Colour Areas to 'sync' selected colours to - this time using the Sync From feature in the Colour Area settings. In this case, we want to apply any selected colour from 'Colour' to this newly created Colour Area (Sync Colour) - so we select 'Colour' from the 'Sync From' dropdown menu (see Figure 3).
In the Advanced tab, it is also possible to select which 2D View the Synced Coloured Area is being applied to.
Important Note: As the colours specified in the input Colour Area are being used, there is no need to add any colours to the Colour Areas that it is syncing to, they just need a mask to control the applicable area.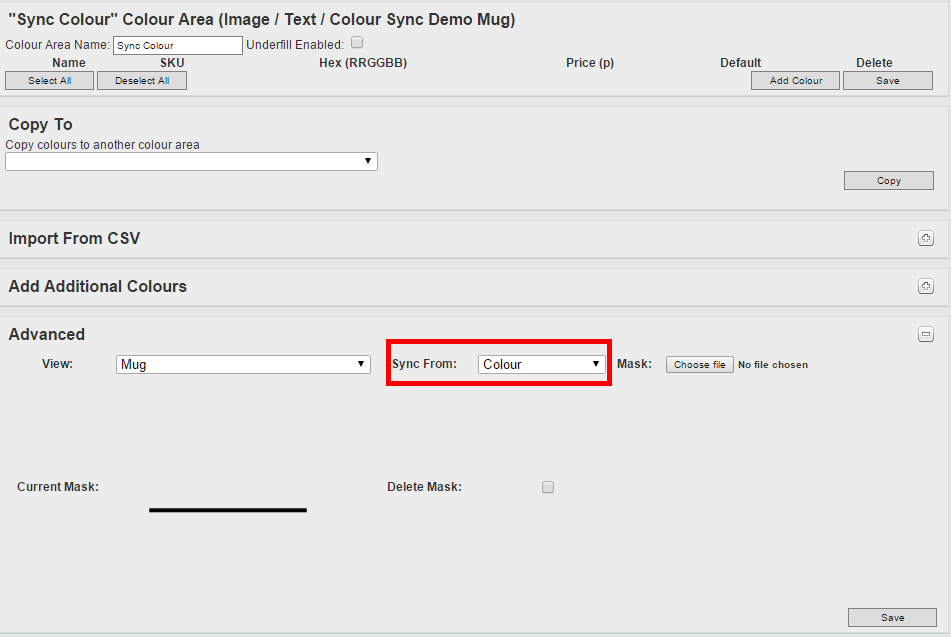 Figure 3
You can create multiple Colour Areas to any size or specification, and use the Sync From feature accordingly either on the same or across different 2d Views. The final result can be seen in the Print Test facility - see Figure 4. Any colour selected in the App is being 'synced' to the other Colour Areas automatically.
Important Note: If you delete/update your 2d view(s), remember that you will need to set the correct view(s) in your colour areas again if using either colour area sync or colour area masks as the association with the previous 2d view will be lost.
In this scenario, the same result is achievable via a single Colour Area with a mask containing both lines - however, this demonstrates how the Colour Sync From feature works.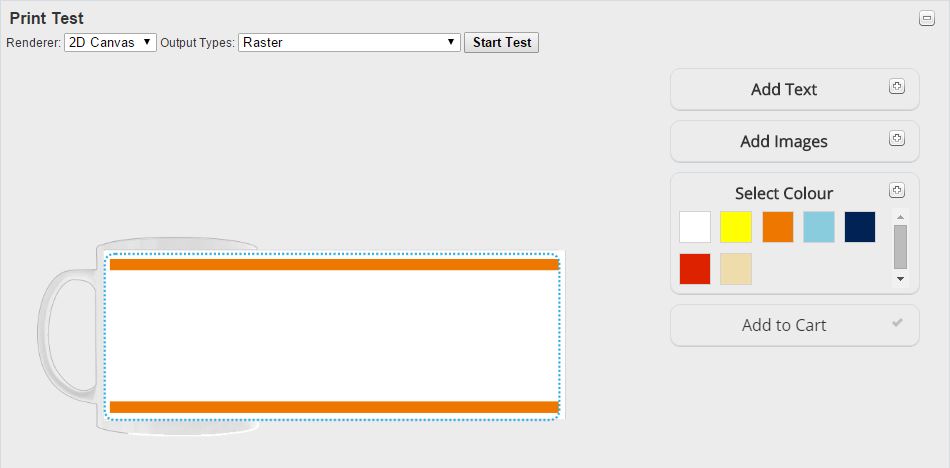 Figure 4
Here is an interactive link to show the Sync From feature in action - Colour Area Sync From Feature Example
Give it a go!