Automated Order Status Notification Reports
You can set up the following reports to automatically send to a nominated email address for each Company or GUID - to help you keep track of orders
These are set up to run automatically in the Companies section of the OMS and can also be run manually in the "Reporting" menu on the main page of OMS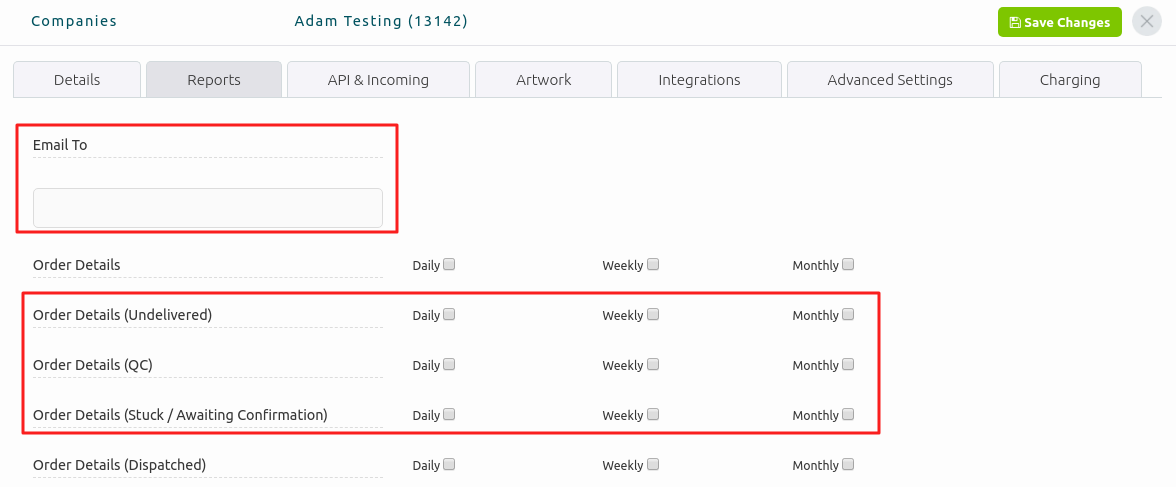 Order Details (Undelivered) - displays all orders that have not yet been despatched whatever their status
Order Details (QC) - displays all orders that have been marked as an "on Hold" or "QC Query" that will need action to progress
Order Details (Awaiting Confirmation) - displays all orders sent to supplier that have not yet been acknowledged as received by the supplier so they can be followed up
All reports are sent as csv files attached to the email and will not generate if the report would be empty
Related Articles

Notification Integration | Generic Filesystem

Introduction This article has been created to show how to setup the Notification Integration that Kornit X has built to connect to a Generic Filesystem Setup To setup the Generic Filesystem Notification integration, please head to your company and ...

Order Status' in OMS Reports

When generating OMS reports, you may come across a column titled "Statuses" This column gives the value associated with a specific status shown on an order in OMS. You can find the corresponding status name and description below: Status Code Status ...

Production Job Status Overview

Detailed below is an overview of the production job status options and how they are set Status How Set Filling All jobs are allocated to a batch or routing template which can have a capacity set before they are released to the shop floor. Jobs ...

Order Status API

Custom Gateway has developed an order status API to allow the order status of each order to be updated. The following are examples of the API calls required to set the status of orders received from OMS platform via API: There are two standard ...

Reporting - All Available Reports

Introduction The Kornit X Platform has a powerful reporting section. A number of different CSV reports can be generated to display various details for one or more companies, over a specific time period. How Do I Generate a Report? To generate a ...