Overview

The Embroidery feature allows you to utilise both Embroidery and standard image previews, and will generate both EMB stitch files and Raster Print files (PNGs) for a single product.

Important Note: This article is written on the presumption that the user has a good understanding of the product creation processes and setup requirements. It is advised that you read through and understand the other Embroidery Feature articles before proceeding with this one.

THE TECHNICAL BIT:

This feature is currently compatible with ACP3. Your company account on CPP must be set to deliver EMB or DST files (this has to be set by Gateway staff - please visit our support portal at
https://support.custom-gateway.com/portal/en/home
and create a new ticket with the request.
Important Note: For each specified Print Area, there should only be one associated image upload opportunity for use with Embroidery. Any non-embroidery Image Areas can utilise all of the standard CPP features.

**Any areas set to deliver EMB or DST output files are subject to additional charges as documented here:

INFORMATION ON PRICING

What are the benefits?

It provides great flexibility and more Personalisation options for your customers.

Both Embroidery and standard image previews ensure your products are represented accurately on screen.

Automatically generates 2 different output formats.

How does it work?

For every Print Area that is set on the product, the system will generate one or more Output files. With regards to Embroidery, the format of those files is determined by the settings on the Image Areas and Text Areas that are associated to each Print Area.

Any Print Area with Image / Text Areas that have the Render Delegate > Embroidery setting will show the embroidery preview in the App, and deliver EMB or DST files.

Any Print Area with Image / Text Areas that have Render Delegate > None set will show standard image previews and will generate Raster PNG files as standard.

What are the implications / considerations?

Technically, you can have a single Print Area on a product that features Embroidered Text, Autodigitization / EMB upload, AND standard Image Areas for raster images. This means that the user can add text and an image to be embroidered, AND add an image to be printed, all within the same Print Area. This will deliver an EMB/DST, and a PNG file based on the Print Area specification. This should be considered based on what is possible in terms of fulfilment.

Important Note: It is currently not possible to enforce an either Embroidery / or Raster Print option within the Print Area - the user will always be able to add content to all Image Areas that are set. It may be best to designate some print areas for Embroidery and some for standard imagery.

It is possible to control the Personalisation method across multiple Print Area locations on the product eg on a garment, have Embroidery on Left Chest and raster Print on the Back of the shirt. This article will explore this approach and detail the setup requirements.

I WANT IT - TELL ME HOW!

The setup requirements are very simple. In this example we will be working on a Football Shirt that has multiple Print Areas with specific functionality and print methods on each:

Left Chest - BADGE: Embroidery (Image)

Right Chest - LOGO: Embroidery (Image)

Front - SPONSOR: Raster (Image)

Back - NAME AND NUMBER: Raster (Text)

1. SET UP EACH PRINT AREA AND ASSOCIATED IMAGE / TEXT AREAS

This product has 4 Print Areas based on the locations specified above.


Each Print Area features an associated input opportunity for the customer, this can be either a Text Area or an Image Area.


For the 2 Image Areas that will be used for Embroidery, the Render Delegate > Embroidery option is enabled:

2. GENERATE A URL AND REVIEW THE PREVIEW IN THE APP

In Smartlink Builder, select ACP3 > set your company > in step 7.eCommerce select the Unbranded Point of Sale option. This will allow you to put through test orders from the App to deliver files in Order Manager / Lite.

Open the URL and upload images / text to the Product. This will automatically trigger the TrueView preview of the uploaded image as embroidery based on where it has been specified.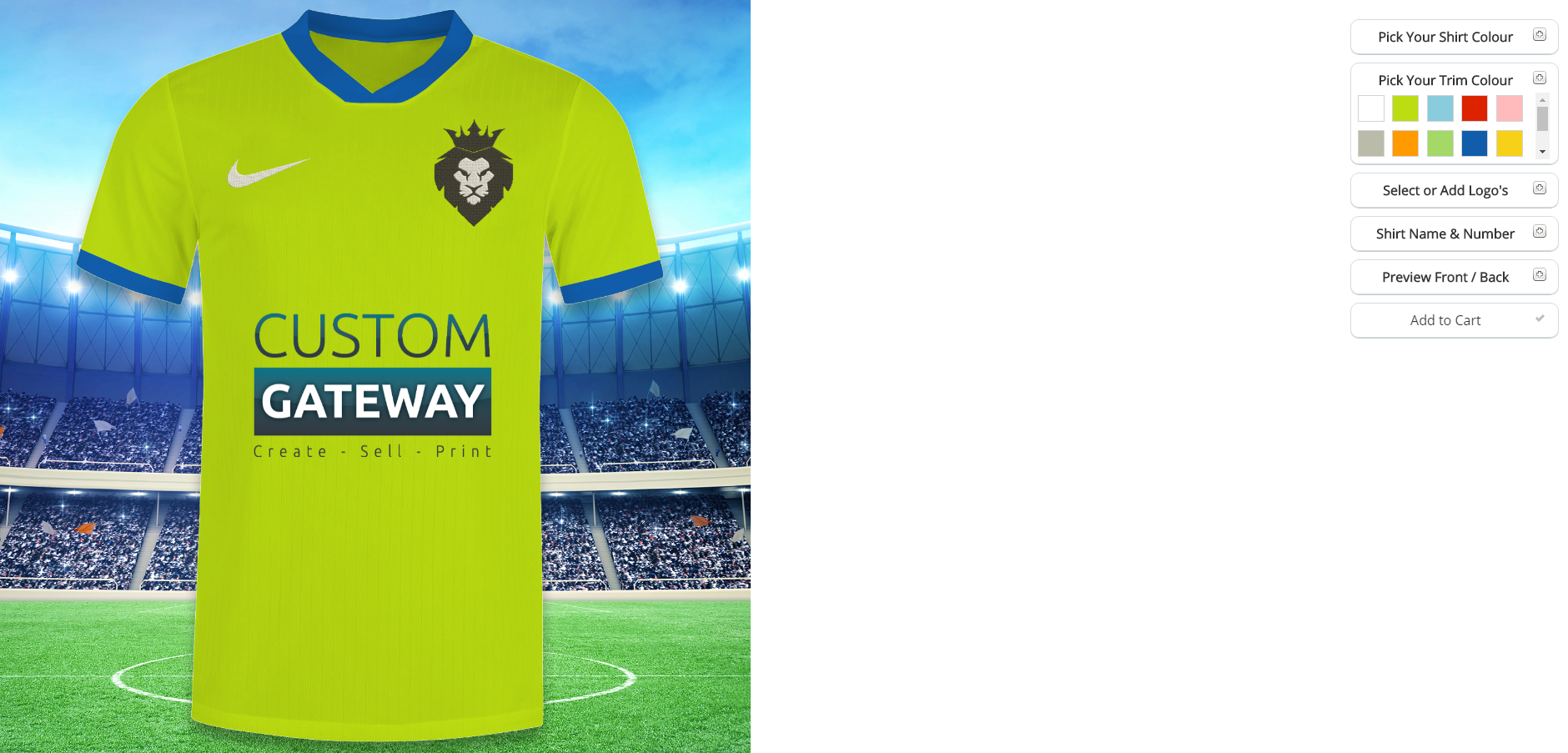 3. RETRIEVE THE FILE AND REVIEW

Depending on subscription type, access Order Manager Lite or full Order Manager to retrieve the EMB / Print files. You can see the 4 generated files highlighted below.

Important Note: You may notice multiple EMB and PNG files for all Text and Image Areas set on the product. These are purely references and contain no information - the stitch files only generate for the areas set with Render Delegate > Embroidery.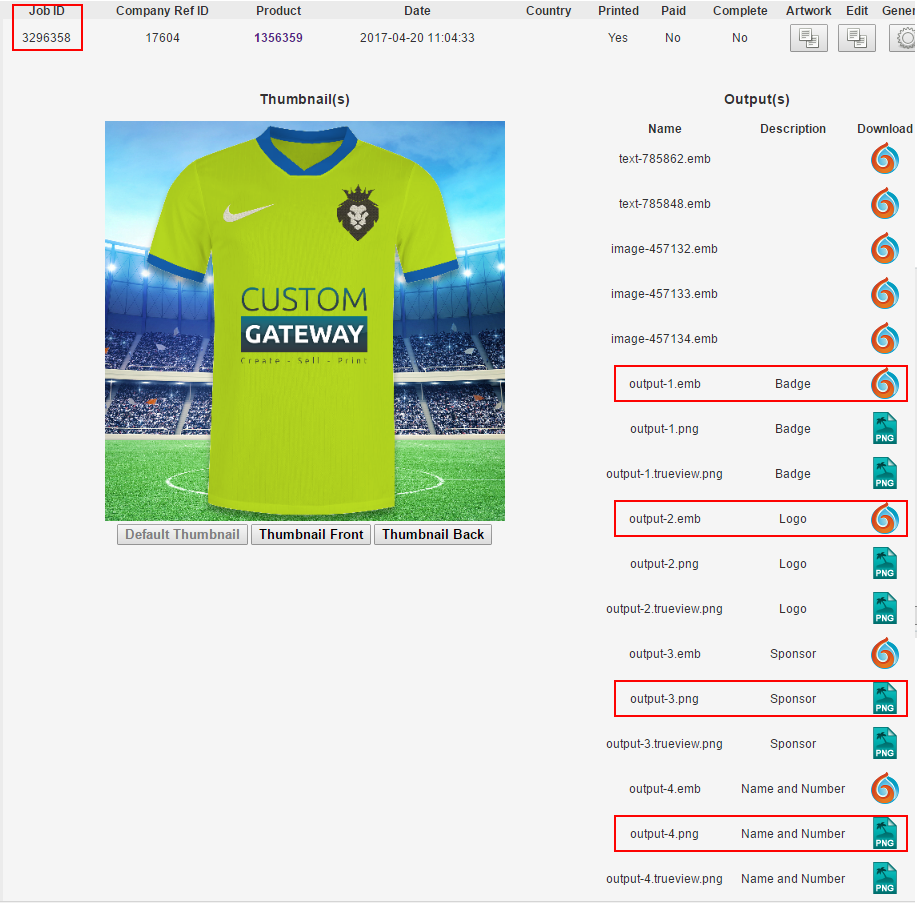 You can then open the EMB/DST file in your embroidery software, and open the PNG file in your Image Editing software to ensure all is as it should be, eg: